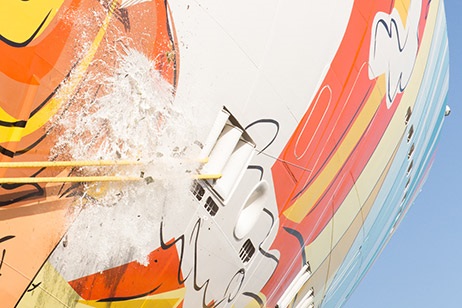 In the kind of party that only Miami can throw—women in red polka-dot swimsuits swinging from hoops, sizzling Latin dancers in black boots, Tito Puente Jr. firing up the crowd and eye-candy godmothers the Miami Dolphins Cheerleaders—Norwegian Getaway was christened Friday in the late afternoon sunshine.
Latin Grammy artist and Miami native son Pitbull got naming ceremony guests on the upper deck dancing, their arms pumping in the air, in a finale of smoke, fireworks and confetti that stole the show.
'She's Miami's ultimate ship,' Norwegian Cruise Line ceo Kevin Sheehan told the crowd, even tossing in a few Spanish words— 'Muy caliente!' (Hot!)—to describe a special Latin version of the Burn the Floor dance show that's part of the entertainment customized for Norwegian Getaway's Miami deployment.
Norwegian Cruise Line, which started modern weekly Caribbean cruising from Miami with the Sunward in 1966, is glad to be back with a year-round seven-day ship after a decade of seasonal seven-day sailings, Sheehan said.
Norwegian Getaway's hull is splashed out with a bright mermaid by Miami artist David 'LEBO' Le Batard, mojitos are the signature drink and a number of the 28 dining spots and bars have outdoor seating on the open-air Waterfront, perfect for Caribbean cruising.
Le Batard was present, along with celebrity chef Geoffrey Zakarian who has three seafood restaurants on board, and 'Cake Boss' Buddy Valastro, whose 'Carlo's Bakery' is featured in the atrium cafe.
Norwegian Getaway arrived in Miami after inaugural festivities in Europe and a Super Bowl showcase as the Bud Light Hotel in New York.
'The ship is finally home,' said Capt. Rune Myre, who praised its construction by 'the German geniuses' at Meyer Werft.
'We feel the soul of the ship,' the captain said, adding that he and the 1,600 crew 'hope passengers coming on board will feel what we feel and be part of the Norwegian family ... This is the ship everyone talks about and everyone wants to work on.'
Waiters circulated with bottles to spritz the crowd in the balmy Miami afternoon. Brooke Burke-Charvet, co-host of 'Dancing with the Stars' (and the godmother of Norwegian Sun in 2001) served as the master of ceremonies.
The audience included Bernard Meyer and Thomas Wiegand of Meyer Werft; Norwegian Cruise Holdings board members Adam Aron, Walter Revell and new director Robert Salerno (Avis Budget Group); PortMiami director designee Juan Kuryla and Miami-Dade commissioner Rebecca Sosa, who delivered an official proclamation of Feb. 7, 2014, as 'Norwegian Getaway Day in Miami-Dade County.'
Also on hand were senior officials of many top retail groups, among them, Cruise Planners' Michelle Fee, Avoya Travel's Van Anderson, Virtuoso's Bill Smith and WMPH Vacations' Uf Tukel. Key port officials spotted in the crowd included PortMiami's Hydi Webb, Port Canaveral's Michael Meekins and 'Bobby G' Giangrisostomi, Port of New Orleans' Gary LaGrange and Robert Jumonville and Port of San Francisco's Michael Nerney.
By Seatrade Insider
For more cruise news & articles go to http://www.cruisecrazies.com/index.html
Re-posted on CruiseCrazies.com - Cruise News, Articles, Forums, Packing List, Ship Tracker, and more