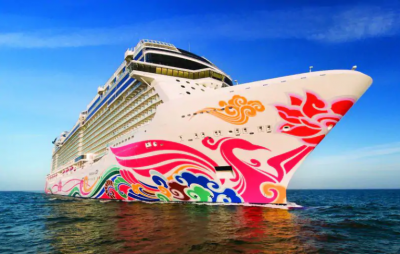 Norwegian Joy was originally built in 2017 to sail the Chinese seas. But after undergoing over $50 million in renovations—including 902,016 square feet of new flooring, 2,240 new light fixtures, 21,527 square feet of new upholstery, updated public spaces, an enhanced pool deck, new go-kart speedway and expanded observation lounge—it's finally ready to sail the US. 
The nearly new ship is the 15th in Norwegian Cruise Line's fleet and is the second in the Breakaway-Plus class (their largest ships in size). It will spend the summer touring Alaska by way of Seattle and will head to the Mexican Riviera and Panama Canal come wintertime.
We were able to hop aboard for the ship's inaugural four-day trip from Vancouver to Los Angeles to take in all 20 decks of dining, entertainment, relaxation and more! Keep reading for everything there is to experience on Norwegian Joy, including all those upgrades.
DINING AND BARS
Norwegian Cruise Line is known for its casual dining policy, aka eat whenever you want. There are no strict dining times and no need to dress up (although, you can if you want to). Norwegian Joy boasts three main dining rooms, a buffet, a 24-hour pub restaurant and nine specialty à la carte restaurants. In the dining rooms, the menu features dishes like Beef Wellington, Chicken Milanese, lobster claws and scallops with creamy pasta. 
The restaurants include Food Republic (sushi/tapas), Cagney's Steakhouse, Ocean Blue (seafood), La Cucina (Italian), Le Bistro (French), Q (Texas BBQ), Teppanyaki (Japanese hibachi), American Diner and, of course, Starbucks. 
Pro tip: Guests have the option to make dinner reservations at these restaurants in advance, prior to boarding. We suggest that you do, as many book up quickly. You can always change your plans once you're onboard, but if you're really interested in trying something, it's better to be safe than sorry. 
ENTERTAINMENT
One thing is for sure—you will not be board on this ship. Joy features the first at-sea go-kart track, as well as outdoor laser tag, mini golf, virtual reality arcade, two waterslides, pools, shops, a theater, spa and fitness center (complete with spin classes!). Adults can also spend time in the casino, comedy club and Beatles-inspired pub.
In the theater, you can go see "Elements," a dance, acrobatic and magic show as well as "Footloose," a musical based on the fan-favorite '80s movie. A third show for adults only called "Wine Lovers The Musical" explores the joys of wine while you drink it and eat lunch.
Kids can also spend supervised time with the Splash Academy while adults enjoy dinner, and teens can make friends at the Entourage Teen Club. 
NIGHTLIFE
Guests 21 and older can check out over 13 bars and lounges on board. Some standouts include Sugarcane, a mojito bar with a live band, Spice H20, an adults-only pool deck bar, The District Brew House for beers and board games, Social Comedy & Nightclub, a comedy club by evening and a late-night dance club by night, and The Cellars Wine Bar, where aficionados can recommend a good blend.
ROOMS 
There are several types of accommodations available onboard, from inside rooms and ocean rooms to suites to penthouses. For added luxury, Concierge Suites provide extra space, 24/7 concierge service, private dining, priority embarkation and disembarkation and other special perks.
IN CLOSING
For even more spacious accommodations and even more perks, Norwegian Joy has The Haven. The Haven is like a private country club on board, where guests staying in Haven rooms get access to a private sundeck, lounge, restaurant and concierge service. Each room also comes with a 24-hour butler, who can also help guests get on and off the ship through a private elevator.
If all of this has you wondering where to book, you should know Norwegian Cruise Line currently has a promotion going on called "Free at Sea" where guests can receive up to four free offers—open bar, specialty dining, shore excursions, wifi, friends and family stays and airfare—based on their stateroom category. 
BY ELLIE CONLEY, AOL.COM
Re-posted on CruiseCrazies.com - Cruise News, Articles, Forums, Packing List, Ship Tracker, and more
For more cruise news and articles go to https://www.cruisecrazies.com