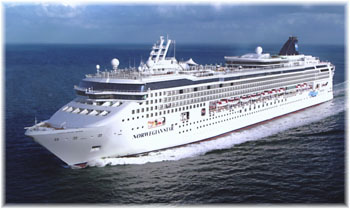 Norwegian Cruise Line will return to the Mexican Riviera in winter 2013-14, operating seasonal voyages from Los Angeles after what will be a two-year hiatus. The Norwegian Star will operate nine seven-day Mexican Riviera voyages along with eight 14-day Panama Canal cruises between Los Angeles and Miami beginning on Oct. 13, 2013. The Mexico sailings will operate December 2013 and March and April 2014. Ports of call include Cabo San Lucas, Mazatlan and Puerto Vallarta.
Norwegian announced the return to Mexico in its 2013-14 winter deployment, which also includes six ships sailing to the Caribbean and Bahamas/Florida from four homeports --Miami, New Orleans, Tampa and New York. The company also will operate two shipsin Canada/New England -- Norwegian Gem from New York and Norwegian Dawn from Boston and Quebec. The line also is offering four trans-Atlantic crossings and several repositioning cruises.
These cruises go on sale to Norwegian's top travel partners and past guests today, Dec. 13, and to the general public on Dec. 15.
Norwegian will base three ships in Miami in winter 2013-14. Norwegian Epic will return for its fourth season in Miami, sailing 25 seven-day Eastern Caribbean cruises from Nov. 2, 2013, to April 19, 2014, departing on Saturdays.
Norwegian Pearl will operate 26 seven-day Western Caribbean cruises from Oct. 20, 2013, through April 13, 2014.
Norwegian Sun will sail 10- and 11-day Southern Caribbean cruises with Sunday and Wednesday departures from Oct. 9, 2013, through April 16, 2014. Ports of call on the 10-day cruise include: St. Thomas, Dominica, Barbados, St. Lucia and St. Maarten. The 11-day cruise also visits Aruba, Curacao and Cartagena, Colombia.
Norwegian Jewel will debut in New Orleans on Oct. 13, 2013, offering 26 seven-day Western Caribbean cruises through April 13, 2014. New for 2013, Norwegian Jewel will alternate Western Caribbean itineraries in November and December. The first itinerary features Costa Maya, Cozumel, Roatan and Belize City. The second itinerary includes Ocho Rios or Falmouth, Jamaica, Grand Cayman and Cozumel.
Norwegian Dawn will return to Tampa and sail 22 seven-day Western Caribbean sailings from Nov. 17, 2013, through April 20, 2014. The ship will also offer a two-night cruise on Nov. 15, 2013.
From New York, Norwegian Gem will continue seven-day Bahamas & Florida cruises from April 27, 2013, through Sept. 7, 2013. The port order of the itinerary has been changed to include more port time in Port Canaveral. The order will be Nassau, Great Stirrup Cay, Port Canaveral and three days at sea. Beginning Oct. 19, 2013, Norwegian Gem will sail 21 nine-day Eastern Caribbean cruises through April 23, 2014. The ship will also offer six one-night cruises from New York on Nov. 15 and Dec. 13, 2013, along with Jan. 10, Feb. 7, March 7 and April 4, 2014.
Norwegian Dawn will operate four Canada/New England itineraries between Boston and Quebec from Sept. 13 to Oct. 4, 2013. These sailings can also be combined.
Norwegian Gem offers five seven-day Canada/New England cruises from New York from Sept. 9 through Oct. 12, 2013.