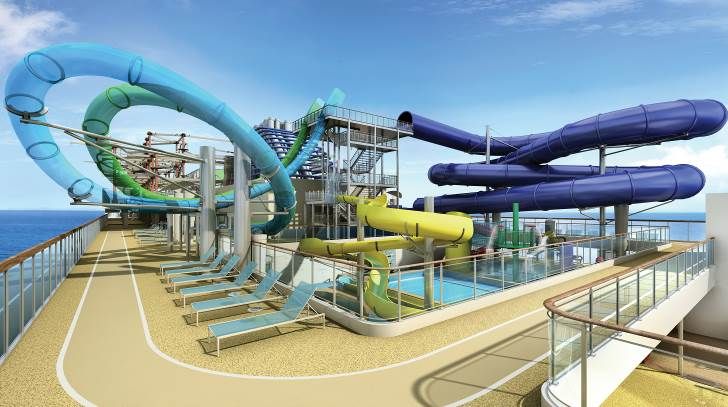 The Norwegian Escape will be a bigger, and improved, version of the two ships that preceded it in the Norwegian fleet.
On a tour here, Norwegian executives showed off the line's 14th ship, which is about six weeks away from its debut in Miami in early November.
Although it is based on the same platform as Norwegian Breakaway and Getaway, the Escape will be notably different in its details and carry more passengers.
Escape, designated Breakaway Plus in early discussions, will have one more deck of cabins, giving it a capacity of 4,270 at double occupancy, up from 3,969 for its predecessors.
The extra deck also allowed for a two-story design in the deluxe Haven area, which now has an elegant glass-enclosed curving staircase connecting the two levels. The Haven also has an indoor-outdoor restaurant, a feature from Norwegian Epic that was skipped on Breakaway and Getaway but is being resurrected.
On almost every deck, Escape has something that distinguishes it as new. On the top deck, the ropes course has been expanded to three levels and has 99 elements, including five zip tracks. The Plank, a balance beam that extends out over the side of the ship, is now on either side of the ship, doubling the opportunity for passengers to try it.
The Aqua Racer water slide has been given a bigger diameter and can accommodate 1,000 riders an hour, up from less than 500 previously.
Breakaway/Getaway's ice bar has been deep-sixed in favor of The Cellars, Norwegian's first wine bar. Jimmy Buffet's Margaritaville replaces the more generic Flamingo bar near the Spice H2O entertainment area, and his 5 O'Clock Somewhere bar will use the space occupied by the Fat Cats jazz and blues club on preceding ships.
At the new Food Republic, guests will order dinner on iPads. "These ships come out with ever-more innovative features with every ship we build," said Norwegian President Andy Stuart.
Stuart said that the outdoor dining area in The Haven and the ropes course are among his favorite additions on Escape. "The ropes course is going to blow people away," he said.
Source: Tom Stieghorst (Travel Weekly, September 16, 2015 "The Escape a Step Forward for Norwegian Cruise Line")
Re-posted on CruiseCrazies.com - Cruise News, Articles, Forums, Packing List, Ship Tracker, and more.
Please visit CruiseCrazies.com for more cruise news & articles.
 
Featured photo credit: Norwegian Cruise Lines
Photo credit: Norwegian Cruise Line