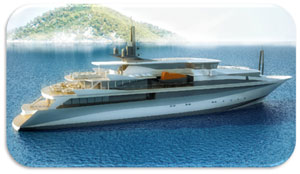 New itineraries have been announced for boutique yacht cruise line Variety Cruises in addition to the launch of two new ships in 2012.
The 223-foot Variety Voyager will launch in the northern hemisphere spring next year offering 36 cabins and a maximum capacity of 72 passengers.
Featuring a sleek, modern design and generous deck space, 28 crew members will attend to passenger's needs during voyages from the Middle East to the Mediterranean.
The new mega yacht will sail the French and Italian Mediterranean coasts as part of the 'Romantic Rivieras' itinerary in June 2012 before heading off on the 'Treasures of South Italy and Malta' voyage taking in ports including Salerno, Sicily and Capri.
'Arabian Journeys' will offer Variety Voyager passengers the chance to explore the Arabian Gulf and Omani Coast in November 2012 sailing from Abu Dhabi to Muscat.