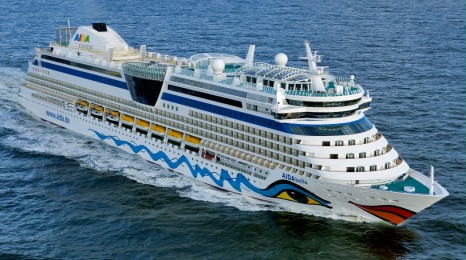 AIDA Cruises, the German unit of Carnival Corp & plc, has decided to name first of the 125,000 gross ton newbuildings on order at Mitsubishi at Nagasaki AIDAprima.
The ship will be delivered in 2015, with a sister due in the following year.
The ship will feature:
- AIDA Beach Club under sliding roof
- Veranda cabins on Lanai deck with pools
- Patio deck with panorama cabins
- Panorama lifts
- Skywalk
The ship will operate seven night cruises to European metropoles, with the first cruise due to depart from Hamburg on 20 June. Ports of call will be London/Southhampton, Paris/Le Havre, Brüssel/Zeebrügge and Rotterdam.
It will become the first ship to operate from German ports, year-round.
Prior to this, the ship will make a delivery voyage from Japan via the Far East and the Mediterranean will depart Yokohama on 22 March and take 86 nights.
By Kari Reinikainen, Cruise Business Review
For more cruise news & articles go to http://www.cruisecrazies.com/index.html
Re-posted on CruiseCrazies.com - Cruise News, Articles, Forums, Packing List, Ship Tracker, and more