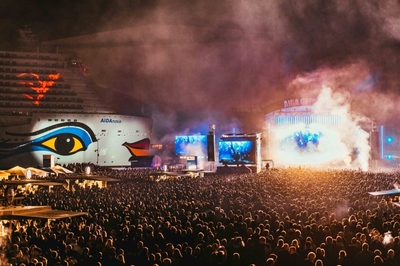 The latest cruise ship christening - For the AIDAnova - Happened Friday at the Meyer Werft shipbuilding yard in Papenburg, Germany.  It was a ceremony unlike most ... featuring an open air concert with world famous DJ and Producer David Guetta as 25,000 fans looked on in a sold-out show.  This was not the only unique part of the event.
The AIDAnova was illuminated with lighting and laser effects in front of the shipbuilding facility and a unique laser show brought the ship and surrounding sights to life.  There were 20 multicolored laser projectors, 300 strobes and 100+ floodlights and spotlights.  
Two aqua acrobats ascended with their luminous flyboards to a height of 20 meters, gliding across the surface of the water, and creating fountains in the air with their amazing stunts.
For the first time there was not a godmother or even a godfather, but instead an entire family:  Sonja and Asad Mirza, and their two children Adrian and Sophia.  "Dear Godchild, You are very welcome to the AIDA family. You bring the whole word together in a single place, and you will make many guests of all ages happy. We name you AIDAnova and hope you, your guests and your crew will always enjoy smooth sailing, fair winds and following seas," said the ship's godmother Sonja.
"AIDAnova's naming ceremony was a special event in a special place: We are delighted that we were able to stage the AIDA Open Air in Papenburg at the Meyer Werft shipyard, so that we could share our enthusiasm about our new ship with so many people. At the same time, this event was a thank-you to our partners, to the Meyer Werft shipyard, and to the many thousands of people who have helped make AIDAnova what is already the eighth AIDA cruise ship to be built on the Ems," said AIDA President Felix Eichhorn.
The AIDAnova is the first ship in the Excellence-class and sets sail for Eemshaven in the Netherlands for final fit-out and sea trials in late September ahead of a November delivery.
The handover of the AIDAnova from the yard to AIDA will take place in November.
Re-posted on CruiseCrazies.com - Cruise News, Articles, Forums, Packing List, Ship Tracker, and more
For more cruise news and articles go to https://www.cruisecrazies.com