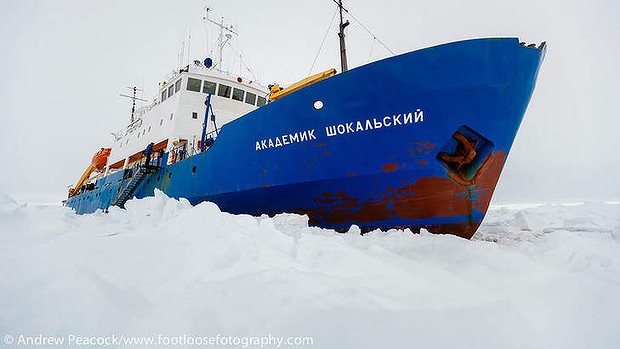 The federal government is trying to recoup the nearly $2 million it spent helping rescue passengers aboard a ship that became stuck in sea ice in Antarctica over the summer.
A distress call was sent from a Russian research ship on Christmas Day after it became trapped in heavy sea ice near Commonwealth Bay with a group of scientists, explorers and tourists aboard.
The ship had been undertaking the Spirit of Mawson voyage, retracing Australian explorer Sir Douglas Mawson's Antarctic expedition.
Several attempts to free the ship were unsuccessful, before the the Australian icebreaker Aurora Australis was diverted from a resupply mission to Casey station to assist in the rescue.
Fifty-two passengers were airlifted to the icebreaker, which completed its resupply mission before returning to Hobart nearly three weeks after the ship first became stranded.
Australian Antarctic Division director Dr Tony Fleming said the rescue cost his division around $1.8 million and they were trying to recoup the bill.
"We're having discussions with the insurance companies," he told a Senate estimates hearing in Canberra on Monday.
"It's a complicated process."
By The Sydney Morning Herald
For more cruise news & articles go to http://www.cruisecrazies.com/index.html
Re-posted on CruiseCrazies.com - Cruise News, Articles, Forums, Packing List, Ship Tracker, and more