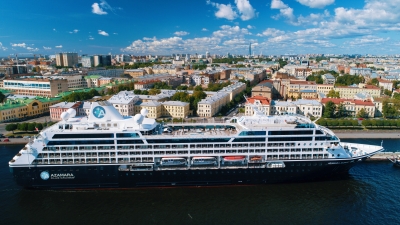 Azamara, which bills itself as the destination-focused cruise line, unveiled the remainder of programs for 2022 as well as for first  quarter 2023, featuring more than 80 new itineraries and more than 170 overnights and 300 late night stays. As the brand furthers its commitment to more in-depth exploration by connecting guests to a country's local life and culture, Azamara will offer more country-intensive voyages between 2022 and 2023 than ever before, allowing guests to experience iconic destinations as well as hidden gems within a single country.
"As the leader in destination immersion, we are always enthusiastic about sharing our new deployment," says Azamara Chief Operating Officer Carol Cabezas. "this year it's even more special as we have the opportunity to announce an extension of our country-intensive voyages. When we were working on our itineraries for 2022/2023, our goal was to invite new and returning guests to explore places they have never visited before, or better yet, connect our guests to a country they have traveled to before, but adding in ports that are considered hidden gems to allow for a new experience, which our country intensives are designed to offer."
With more than 275 ports of call in more than 70 countries, Azamara will feature 26 ports in Greece alone, with two maiden ports—Syros, and Tinos. Azamara will also add on returning guest favorites, including Greece country-intensives, voyages to the Black Sea and Egypt-Israel intensive voyages. Further south, Azamara will continue with another guest favorite, South Africa intensive voyages. Highlights of some maiden ports include:
Syros, Greece: Far less hedonistic than its neighbors, Mykonos and Santorini. Syros offers an authentic look at what Greek life is truly like in the Cyclades. Home to fantastic food and beautiful beaches, Syros is a hidden gem that doesn't necessarily want to be discovered.
Dakar, Senegal: Enigmatic, electric  and explorable, Dakar dazzles on the West African coast. Jutting out on the Cape Verde Peninsula, the city is the westernmost point of the African continent, and was an important trading point for European colonial powers.
Aberdeen, Scotland: From urban delights to pastoral pursuits, Aberdeen is Scotland's third largest city,  a surprising gem with distinctive architecture and a cosmopolitan feel. Guests can admire the granite architecture that varies from highly ornamented Victorian to robust, rough-hewn Scottish façade in the heart of quaint Old Aberdeen.
Azamara is an upmarket cruise line and a leader in destination immersion, with three mid-sized ships sailing to all seven continents of the world. The boutique-style vessels allow guests to visit marquee ports around the world and dock in smaller less-visited hidden gems. Guests can experience a boutique hotel at sea with inclusive amenities such as gratuities, beverages and more. For more information, click on Azamara New Ports or visit www.azamara.com.
________________________________
SOURCE: Insider Travel Report, James Shillinglaw (September 18, 2020); Photo Credit: Azamara Cruise Line
Re-posted on CruiseCrazies.com - Cruise News, Articles, Forums, Packing List, Ship Tracker, and more
For more cruise news and articles go to https://www.cruisecrazies.com