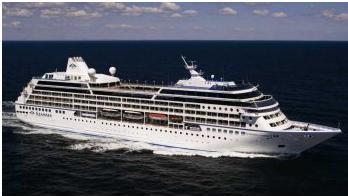 Azamara Journey Makes Maiden Visit to New York En Route to Titanic
Azamara Club Cruises' Azamara Journey called at the Manhattan Cruise Terminal in New York City for the first time on April 9. The 694-passenger ship overnighted in the city before embarking on a chartered Titanic memorial voyage for an eight-day sailing.
Azamara Journey, which has been chartered by Miles Morgan Travel in the U.K. for the voyage, will meet up at the Titanic sinking site with the Balmoral, which sailed from Ireland on April 8. Journey will visit Halifax and the cemetery where many Titanic victims were laid to rest.
The 694-passenger ship will arrive at the Titanic site at 2:20 a.m. on April 15 for a memorial service. The memorial voyage will feature two 90-minute lectures each day by Titanic experts, a special meal duplicating the final dinner on the Titanic and two formal, dress-up evenings.