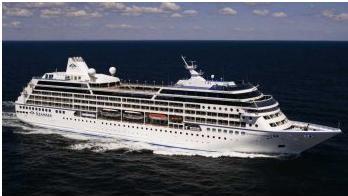 All 590 of Azamara Quest's passengers reportedly have now left Malaysia for Singapore on flights chartered by the line, and a team of experts is onboard the luxury vessel to determine the extent of damage and investigate the cause of a fire that broke out in the engine room, injuring five crew and leaving the ship adrift last Friday.
Malaysian state news agency, Bernama, reported that Azamara chartered five planes to transport its passengers. Four planes came from Royal Brunei and were being routed through the sultanate on the way to Singapore, while Dragon Air provided the other, direct flight.
Quest arrived about 9:30 p.m. local time Sunday in Sandakan, Malaysia under its own power after the onboard fire knocked out electrical systems and propulsion and ultimately forced the cancellation of the 17-night voyage.
According to Azamara, the fire started at approximately 8:19 p.m. ship's time (8:19 a.m. EDT Friday) while Quest was en route from Manila, Philippines, to Sandakan. The line says the fire was contained to the engine room and quickly extinguished. Five crewmembers suffered smoke inhalation, with one seriously injured, though there were no reported passenger injuries.
Engineers onboard Quest managed to get the ship back underway approximately 24 hours after the fire. Engineers managed to restore power to one of the engines overnight Friday, which brought most facilities back online, though, for a time, the ship was running only on generator power.
State of the Ship and Crew
Malaysian daily, The Star, has reported that more than a dozen engineers are now examining Quest. The Web site has quoted Azamara CEO Larry Pimentel as saying it will take 24 to 48 hours to determine whether the ship can be repaired at the Karamunting port where it is currently docked or if it will need to be moved to a facility in Singapore.
"It is possible that the ship may have to go to a [different] location, and one of the largest [repair facilities] in this part of the world is Singapore," Pimentel was quoted as saying. "These situations are dynamic. We need a lot of experts to try this and that. For the moment, the crew stays on board."
Pimentel also reportedly acknowledged that he had spoken to crewmembers injured while fighting the blaze, and revealed that the crewmember who had been most seriously injured was being stabilized at the Duchess of Kent Hospital before being flown by air ambulance to a larger facility that will be able to provide more extensive pulmonary care and diagnostics.
Praise for the Crew of Azamara Quest
"I would ... like to commend the crew onboard Azamara Quest, not just for their valiant and courageous efforts during the fire, but for the way they have worked tirelessly to make our guests as happy and comfortable as possible until the ship arrived in port," said Azamara president and CEO Larry Pimentel in a statement.
When the ship did finally dock, U.S. and British embassies had consular teams in place to assist the 1,001 people onboard, according to reports. A Coast Guard spokesman, Lt. Cdr. Algier Ricafrente, told the BBC that Azamara Quest was carrying 411 crew and 590 passengers, including 201 Americans and 98 British citizens.
"Everybody was joyous that they were alive," passenger Diane Becker Krasnick, who was celebrating her 40th wedding anniversary onboard, told the Associated Press. "It was unfortunate, but the crew was totally, utterly amazing, taking care of us, making sure we were safe, pulling double duty. I would still highly recommend ... Azamara."
Several x members were also onboard Quest, including westaussie, who reported on the boards that the ship "did arrive at 9:30 p.m. but it was midnight till the first buses left to the various hotels. We got to our room at 2 this morning. ... Yes, there was a rousing cheer for the injured crew member."
Another report, posted by a client of Luxury_Cruiser, paints a frenetic scene: "After a few hours [after the fire], we were finally stood down and spent the night sleeping on deck (as there was no lighting, toilets, water or air conditioning). Anyway, eventually things started returning to some semblance of normal ... The Captain and crew have been fantastic....they can't do too much for us."
Passenger Compensation and Travel Arrangements
Upon arrival in Malaysia, the line offered guests the option of staying onboard the ship -- which reportedly has no air-conditioning -- or "being transported to a local hotel until they continue on their vacation," according to a statement.
Azamara is offering guests on the stricken ship a full refund for the cruise and a certificate for a future cruise worth 100 percent of the cruise fare paid for their March 26, 2012, Azamara Quest sailing.
With the remainder of the cruise being canceled, in addition to the refund and cruise certificate, Azamara has told x that guests have been provided with several options for extending their trips and returning home.
All options include flights to Singapore and bookings at a luxury hotel paid for by the line or, if guests have chosen to arrange their own accommodations, reimbursements for hotel stays of up to $300 per day. Additionally, each guest is entitled to compensation of $150 per day for meals and incidental costs. The line is covering the costs of flight itinerary changes up to $500, and is also providing guests with a refund for all airfare paid with relation to the original cruise. For those guests who stay in accommodation arranged by the line, an Azamara representative will be on hand to provide assistance.
The line has set up two dedicated numbers for questions regarding Azamara Quest: from the United States and Canada, the toll free number is 888-829-4050. From outside the United States the direct or collect line is 408-916-9001.
Quest began its 17-night sailing from Hong Kong, China, on Monday, March 26. The original itinerary was set to include port calls in Manila, Philippines; Sandakan (Sabah), Malaysia; Palapo (Sulawesi), Benoa (Bali), Semarang and Komodo, Indonesia and to conclude in Singapore on Thursday, April 12.