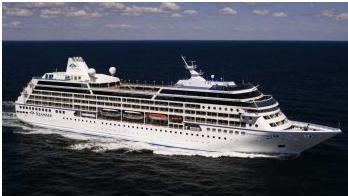 Azamara Quest's next cruise will be cancelled due to damage suffered from last Friday's fire, which injured five crewmembers and left the ship adrift off the southern Philippines coast.
In a statement, Azamara Club Cruises said Quest's April 12 voyage from Singapore was being dropped due to the time needed to make repairs, which will take place in Singapore. The cause of the fire is still under investigation.
Impacted passengers are being given a refund along with a future cruise certificate for 30 percent of the fare paid.
The fire started at approximately 8:19 p.m. ship's time (8:19 a.m. EDT) on March 30 while Quest was en route from Manila, Philippines, to Sandakan, Malaysia, as part of a 17-night sailing that began in Hong Kong on March 26. The flames were contained to the engine room and quickly extinguished, said the line, but not before knocking out electrical systems and propulsion. Five crewmembers suffered smoke inhalation, with one seriously injured; there were no reported injuries among the 590 passengers, including 201 Americans and 98 British citizens.
Engineers on Quest managed to get the ship back underway approximately 24 hours after the fire, and Quest arrived in Sandakan, Malaysia, under its own power at about 9:30 p.m. local time on April 1.
Passengers on the fire-shortened cruise have been given a refund and issued a certificate for a future cruise worth 100 percent of the fare paid. Passengers were also given several options for extending their trips and returning home.
All options included flights to Singapore and bookings at a luxury hotel paid for by Azamara or, if passengers chose to arrange their own accommodations, reimbursements for hotel stays of up to $300 per day. Additionally, each passenger is entitled to compensation of $150 per day for meals and incidental costs. The line is covering the costs of flight itinerary changes up to $500, and is also providing passengers with a refund for all airfare paid with relation to the original cruise.
As of Tuesday, April 3, all of Quest's passengers had left Malaysia for Singapore on flights chartered by Azamara