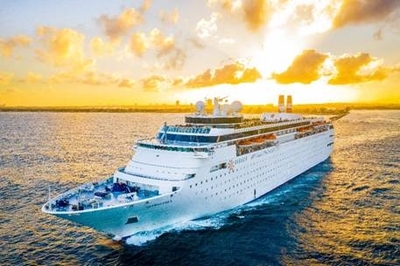 DEERFIELD BEACH, Fla. – July 29, 2019 – Bahamas Paradise Cruise Line, the only provider of two-night cruises to Grand Bahama Island, today announced the launch of its all-new 'Get Away Again' program – offering an instant $25 onboard credit for each $100 deposit for up to four future two-nights sailings aboard Grand Classica or Grand Celebration. Repeat cruisers who choose the cruise line for their dream escape to the Bahamas will be rewarded for their loyalty with this new incentive. Bahamas Paradise Cruise Line also encourages first-time travelers to relive their experience with family and friends by booking a return trip.
"With exciting entertainment options, globally inspired dining options and plenty of poolside activities, there's always something new to discover while onboard our ships," said Francis Riley, senior vice president, sales and marketing, of Bahamas Paradise Cruise Line. "This program offers instant gratification to reward repeat cruisers and makes it more affordable than ever for travelers to book their next island escape."
The 'Get Away Again' program offers guests an incentive for booking a repeat cruise while still on board or up to seven days after debarkation. For each $100 deposit made towards a future sailing, guests will instantly receive an onboard credit that can be used immediately, or during a future two-night cruise. The $25 onboard credit per $100 deposit can be used for up to four bookings totaling up to $150 in onboard credits, or up to $250 for Cruise & Stay deposits. The unique Cruise & Stay program lets guests extend their island escape at one of four premier resorts and hotels, including Viva Wyndham Fortuna Beach, The Grand Lucayan, Marlin at Taino Beach Resort and Club, and Pelican Bay Hotel. Guests have one year to select their sailing dates and may use the deposit towards a booking, combinable with any other offers available at the time.
Recently named a winner of x's 2019 Cruisers' Choice Award for Best Entertainment, Bahamas Paradise Cruise Line is the only provider of two-night cruises to Grand Bahama Island with daily departures from Palm Beach. While sailing to paradise, guests can choose from several fine dining options, including gourmet burgers at The Bull; an intimate, candlelit dining experience at Admiral's Steak and Seafood; zesty Italian fare at A Slice Above; or experiential, interactive dining at The Rock Grill – which gives guests the opportunity to cook their own meat and seafood dishes on a lava rock.
Each night onboard offers a different experience, with several nightly shows including the popular Celebration Nights and Let's Dance! Production. Adult cruisers are welcome to cap the night with drinks and laughs during a late-night comedy show while younger travelers can mix and mingle at one of the Dancing Martian's glow parties.
With a host of summer offers, like Kids Sail Free and Girls Getaway, as well as exclusive offers for teachers, military members/families, and solo travelers, now is the time for loyal cruisers to take advantage of the savings and book their next escape with Bahamas Paradise Cruise Line.
For more information on Bahamas Paradise Cruise Line or to book a cruise, please visit: www.BahamasParadiseCruise.com or call 888-530-2775 (English) / 888-530-2776 (Español).

(Gerry Barker is a freelance travel writer who has covered the cruise industry for 10 years, formerly with The Palm Beach Post. He and his wife Pam maintain a Cruise Blog on NorthPalmBeachLife.com)