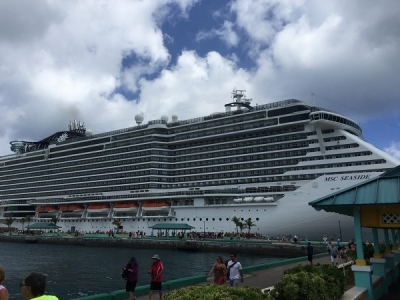 (PRESS RELEASE)_(MIAMI, Fl. (May 8, 2019) – Brightline (soon to be rebranded Virgin Trains), the premier hospitality-driven intercity passenger rail service in the United States, announced today a strategic partnership with MSC Cruises, the Swiss-based world's largest privately-owned cruise line and market leader in Europe.  MSC Cruises is the official cruise line partner of Brightline. The partnership offers travelers a carefree, bag-free experience prior to setting sail in addition to a convenient travel option between  West Palm Beach and Fort Lauderdale to PortMiami when traveling on the rail system.
Brightline will now offer special Train to Port bundle packages that allow MSC Cruises' guests sailing from PortMiami to park their car, check-in and check their luggage at Brightline stations before boarding the cruise.  Brightline will safely and seamlessly deliver riders' luggage directly to guest staterooms on the ship. The packages will also include a Lyft Ride* from Virgin MiamiCentral station to PortMiami.  Train to Port package fares may vary and will include train tickets, bag check, a roundtrip Lyft ride and parking services. To view and book Train to Port bundle packages, go to: gobrightline.com/traintoport/MSC. Packages start at $95.00 for every two passengers.
"We are continuously looking for new ways to enhance our riders' experiences," said Johanna Rojas, Vice President of Marketing for Brightline.  "With millions of travelers to South Florida embarking on cruise vacations, partnering with cruise carriers was an obvious next step for us and we're thrilled to be working with MSC Cruises to continue simplifying the ways our guests travel."
"As MSC Cruises significantly expands its presence in North America and South Florida specifically, we are committed to partnering with world-class and innovative brands that will enhance our guests vacation experience from start to finish," said Ken Muskat, EVP and Chief Operating Officer of MSC Cruises USA. "A vacation should be as carefree as possible, and with the partnership with Brightline, MSC Cruises is now able to offer its guests arriving in or traveling from South Florida a more seamless and convenient pre- and post-cruise travel experience."
MSC Cruises currently operates four cruise ships out of PortMiami: MSC Seaside and MSC Armonia, which sail year-round; MSC Divina, which sails seasonally; and MSC Meraviglia, which will join the ships sailing from Miami this fall, seasonally. Guests sailing on any of the four ships can take advantage of MSC Cruises and Brightline's new Train to Port offerings.
Poised to reinvent train travel in the United States, Brightline is the hospitality-driven express intercity passenger rail service that currently connects Miami, Fort Lauderdale and West Palm Beach, with expected future service from Orlando to Tampa, and a new system between Las Vegas and Southern California.  Additional cruise carrier partnerships to be announced in the near future.