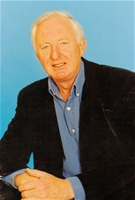 Cruise to the Mediterranean with the renowned TV correspondent, Michael Nicholson, OBE, MA, who is the latest in a line of glittering speakers to join its Vistas cruise enrichment programme. Michael will be the guest speaker on Boudicca's 23-night cruise to the Mediterranean, departing from Portsmouth on 12th October 2012.
Michael Nicholson is best known as a seasoned and highly-acclaimed foreign correspondent, reporting on wars and natural disasters the world over. He has reported from no fewer than 18 war zones during his long and illustrious career, including Nigeria, Biafra, Vietnam, Cambodia, Beirut, Israel, Cyprus, Congo, Rwanda, The Falklands, the Balkans and both Gulf Wars.
Michael was ITN's first Bureau Chief in South Africa, based in Johannesburg; he reported on news from all over Africa between 1976 and 1981, then journeyed overland back to the UK with his family – a 14,000-mile journey that took six months.
He has worked for Channel 4, as Washington Correspondent for the 'Morning News', and as co-presenter on its weekly current affairs programme, 'The World This Week'. He has also worked with ITN, presenting the early evening news, and acting as Chief Foreign Correspondent for 'News at Ten'.
Most recently, Michael has written and presented a series of documentaries, based on his war experiences, with the title 'Nicholson Back to the Front', revisiting some of the hotspots of his career, including South Africa, Zimbabwe, the Middle East, The Falklands, Vietnam, Angola and Cyprus.
Cruise guests can enjoy Michael's fascinating and informative talks in the comfort and elegance of Boudicca on this exciting Mediterranean itinerary, which visits Portimăo (Portugal), Ibiza (Spain), Valletta (Malta), Piraeus (for Athens, Greece), Çanakkale (Turkey), Istanbul (Turkey), Kusadasi (Turkey), Gozo (Malta), Mahon (Menorca) and Gibraltar, returning to Portsmouth. Prices for this cruise start from £2,179 per person, based on two adults sharing an inside, twin cabin, Grade 'I', and include all meals and entertainment on board, and port taxes. There are also 'Double Savings' available on this cruise of up to £1,000 per cabin (depending on cabin grade), if booked by 29th February 2012 inclusive, as featured in Fred. Olsen's 'Captains' Collection cruises 2012' brochure of 73 specially-selected, ex-UK cruise deals. Fred. Olsen's 'No Fuel Surcharge Guarantee' also applies on all bookings made by 31st January 2012 inclusive, for departures from 1st January 2012 onwards, so value for money is guaranteed. There is no extra charge for taking part in Vistas cruises activity.