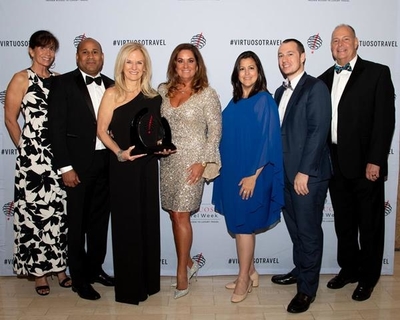 Crystal took home two of the biggest awards at Virtuoso Travel Week last week when the company was named "Cruise Line of the Year" and "Most Luxurious Guest Experience" in the cruise category by the professionals of the global luxury travel network. The awards were presented during Virtuoso's 30th annual Travel Week, and speak directly to Crystal's unwavering commitment to the travel advisor community and the overall guest experience provided aboard its luxury ships.
"We are honored and humbled by these awards from the professional advisors of the Virtuoso Travel Network, who are experts in the discerning preferences of luxury travelers," said Crystal's senior vice president of marketing and sales, Carmen Roig, who, along with her team, accepted the awards on the company's behalf. "In every facet of the Crystal Experience, our priority is to provide our guests the most elegant and sophisticated spaces throughout our ships and numerous choices to make their voyage precisely what they want it to be – always delivered with the personalized service of our crew, who strives to not only meet, but exceed guests' wishes every day.
"On behalf of everyone at the company, I want to thank our partners at the Virtuoso Travel Network and the travel advisor community as a whole for their support and dedication to Crystal," Roig added.
It has long been Crystal's philosophy that the genuine service and attention to every detail by the company's celebrated crew is at the heart of the onboard guest experience, earning Crystal one of the highest guest loyalty rates in the industry. In addition to this personal component, Crystal has remained at the forefront of luxury in its ships' designs and amenities, a vast array of enriching programs on board, and a number of exclusive experiences ashore, including VIP access to some of the world's most premier events.  
As the leader in the luxury cruise industry for decades, Crystal continues to expand its portfolio of experiences that appeal to a variety of luxury travelers, enabling travel partners to grow their luxury business and reach new audiences. With dramatic redesigns completed for Crystal Symphony and upcoming for Crystal Serenity, the company continues to invest in its core Ocean voyages, which span the globe and offer travelers diversely enriching choices.
Crystal River Cruises welcomed two new river ships earlier this year, as Crystal Debussy and Crystal Ravel joined the fleet alongside identical sisters, Crystal Bach and Crystal Mahler, offering the only all-suite, all-balcony, all-butler accommodations in the region, and Crystal Mozart, the largest ship along Europe's rivers.
Crystal Yacht Expedition Cruises' Crystal Esprit continues to take travelers seeking exclusive, active experiences to the world's most elite yachting playgrounds in the Adriatic and West Indies, while the world's largest and most spacious luxury expedition yacht, Crystal Endeavor, will debut in August of 2020. 
By Crystal Cruises
Re-posted on CruiseCrazies.com - Cruise News, Articles, Forums, Packing List, Ship Tracker, and more
For more cruise news and articles go to https://www.cruisecrazies.com