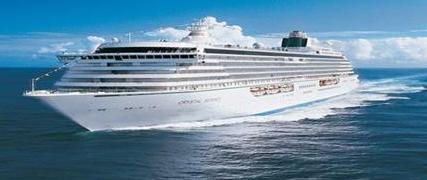 Crystal Serenity To Undergo Major Redesign in May
This spring, Crystal will be spending some $25 million to keep its largest ship, Crystal Serenity, on the cutting edge of luxury style
More than 400 expert technicians flown from around the world, working round the clock for just 14 days, are scheduled for the massive redesign of her 531 Deluxe Staterooms,
Penthouses and Penthouses Suites; retail centers; expansive outdoor pool deck and other design projects during a May 8 to 22 dry dock at Hamburg's Blohm + Voss shipyard.
All of Crystal Serenity's Deluxe Outside Staterooms, Penthouses, and Penthouse Suites will sport new, floor-to-ceiling tufted headboards, bedside cabinets, wallpaper, sofas, curtains, pillows, and custom carpets in contemporary lines and classic stone, silk, velvet, leather, and crisp linen textures. New modern lighting features and electronic "do not disturb" and doorbell system will allow guests greater personalization of their home-away-from-home.
Serenity's retail shops will receive a similar, sophisticated metamorphosis. The Facets fine jewelry store will mirror a jewelry box, with mother-of-pearl feature wall, beveled chrome vitrines, and a new, private sales area. The Apropos boutique will become three-shops-in-one, with a flagship Christian Dior cosmetic/skincare area showcased amongst rich Zebrano wood and herringbone rosewood, arresting black-plum-magenta carpeting, and tufted leather seating.
New Chic Pool Deck
Inspired by Crystal Symphony's recent transformation, the Seahorse Pool teak deck will be refashioned with circular pod beds, plush sofa groups, and lounge chairs in a kaleidoscope of lime green, azure, and mango.
New Lighting and Furniture
The corridors throughout the ship will be transformed with new, custom carpeting, inspiring artwork, and mood lighting. Dramatic new lighting will also be installed in the Crystal Dining Room, as will new furniture on all stateroom verandahs.
Following the dry dock, Crystal Serenity will embark on a series of Baltic, North Cape and British Isles cruises before heading to the Mediterranean for late summer and fall cruise series, where guests cannot only enjoy the resort's new look but exceptional value with verandah savings and a new fall fare sale