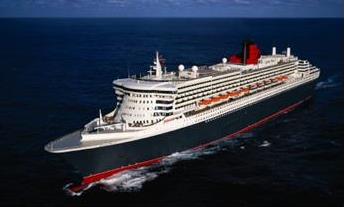 Cunard Line, the UK based premium market brand in Carnival Corp & plc group, will switch the focus of its marketing from ships to destinations, Managing Director and President Peter Shanks said.
With a three ship fleet, the company now has the hardware that it needs. "We will transform itineraries to introduce more innovative ones," Shanks said at a presentation in London on Tuesday. The company will operate a total of 13 two night mini cruises in 2013 from Southampton to Hamburg on Queen Mary 2 and Queen Elizabeth, with return flights included in the fare and hotel stays an optional extra as a move to attract first timers to the brand, he pointed out.
Another Cunard official said that the Telegraph Cruise Show that was held in London last weekend had produced lots of bookings from people that were new to the Cunard brand, in addition ones that had cruised with the line before.
The language in the main brochure will be tuned to make it easier to digest by people that have not cruised with Cunard or with any other line, Shank pointed out.
The company will offer 18 Trans-Atlantic voyages next year, including four back to back round trips. "Hundreds of British passengers book such a voyage, they sail seven days to New York, want to spend a day there doing shopping and then sail back without having to use airports," Shanks continued. There will also be two eight night Trans-Atlantic voyages next year compared to just one in 2012, which was by Queen Victoria earlier this month.