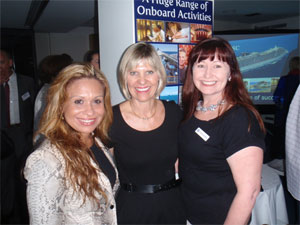 MSC Cruises Australia and New Zealand capped off their 40th year with a Christmas celebration and update on their newest ship, MSC Divina.
Having experienced double digit growth in the past year, MSC are expecting to continue the pattern with their annual capacity increasing to 1.5 million passengers once Divina launches on 26 May 2012.
Whilst their average passenger demographic has decreased to 53 years, the demand for cruising in the Mediterranean in particular has increased.
"The fact that MSC Divina will be cruising the beautiful East Mediterranean is a bonus as capacity has always been at a premium to this part of the Mediterranean," MSC Cruises Australia and New Zealand managing director Lynne Clarke said.
Noting the line's flexible embarkation options as one of the many keys to their popularity with cruisers, Ms Clarke shared with guests at last night's event that it's a matter of "when" MSC will deploy a ship to Australian waters not "if".