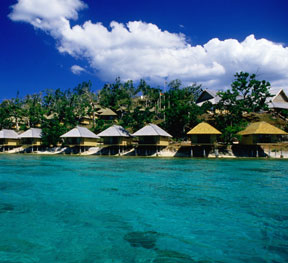 Holidaymakers can now dive into the pristine waters of the Pacific or soak up the French flavours of Noumea from the comfort of their home with P&O Cruises' new online Cruise Experience videos.
Featuring footage of fun shore excursions and exploration of picturesque ports, the cruise line hopes the series of videos will help existing passengers plan their holiday.
Told through the eyes of passengers, crew and celebrity cruisers like former NRL player Paul Harragon, the videos are shot with handheld cameras offering honest and sometimes humorous insights into real cruising experiences.
The destination videos offer a snapshot of some of the 60 ports P&O Cruises visits including the Isle of Pines, with its tropical landscapes, the Loyalty Islands with its smiling locals and all the island delights Vanuatu has to offer.
A selection of the cruise line's most popular shore excursions, including one starring Mr Harragon as he canoes down the Riri River in Vanuatu, feature in longer segments.
Meanwhile a series of onboard videos will offer viewers a taste of the wide-array of activities and entertainment on P&O Cruises' ships including Luke Mangan's Salt Grill restaurant.
Jenny Lourey, Senior Vice President of Carnival Australia which operates P&O Cruises, said the videos offer holidaymakers an insight into all the great aspects of a cruising holiday.
"Our ships are a destination in their own right but the videos also show the beautiful destinations we visit and the great activities available on shore and at sea," Ms Lourey said.