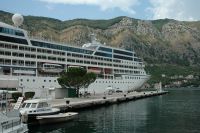 Why is Azamara Club Cruises such a carefully kept secret in this industry? It is perplexing that this excellent product has to work so hard to rise above the marketing noise and clutter. Word of mouth still counts, however, particularly now with instant user internet reviews. We hope and feel strongly that Azamara will hold its own and thrive despite the constant reminders of "economies of scale" that tell us in the industry that bigger is better (more profitable). A unique itinerary within a seven-day framework, plus the fact that we were curious about the product, attracted us to a cruise on the Azamara. The Quest started out from Venice, and we had luxuriously long days in Hvar, Split, Kotor, Dubrovnik, Korcula and Trieste. With few slips-ups, the tone, culture and consistency of this relaxed upscale product delivered.
We'd like to point out what is so different and special about this experience weighed against the other cruise products. There were some weak points here and there, but on the whole we were very pleased.
For starters this is a small 694-passenger ship. A mostly adult experience, few kids and an international mature guest mix that was stimulating in itself. Large numbers of Brits and Scandinavians made for a certain cordial atmosphere aboard.
Without exception everyone we talked to commented on the crew – more so than any other cruise we have been on. Crew and staff were always smiling, warm and courteous without being over-bearing or having that "under the gun" happiness you sometimes sense. These crew members seemed to be in on some secret joke. Were they laughing about something we did or just smiling? It doesn't matter. As has often been said a happy crew is a happy cruise!
Captain Carl Smith undoubtedly set his personal stamp to the tone on this ship (see one-on-one interview). As one crew member told us he wasn't like "some of the other captains" they sailed under, even attending crew parties and events. Senior officers were more involved with passengers than we've ever seen. They participated in a 1,350-step climb to a fortress in Kotor, danced with passengers at certain events, and although not too unusual, walked the ship often, keeping an eye and ear on things. Most impressive from our point of view was being wished well as we disembarked by the hotel manager and food/beverage manager at the gangway. They waited for every single guest to leave the ship and thanked them for sailing.