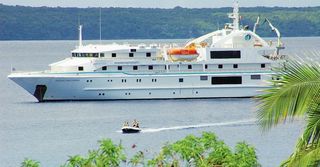 THE operators of a Cairns-based cruise ship on which a crew member died three years ago say it was an unfortunate accident.
They say the recommendations in a maritime report about the death on Oceanic Discoverer at the Port of Napier on February 19, 2009 had or would be met.
The Transport Accident Investigation Commission report said that a hydraulic fire door, which closed at twice the allowable speed, trapping the 34-year-old man, was named as a contributor to the death of the vessel's chief engineer.
The report said the crew was conducting a fire and emergency drill and closing and testing the hydraulic water-tight doors.
The master closed the doors remotely from the bridge and some minutes later the chief engineer opened the doors to the engine room.
"The chief engineer was trapped in the door for more than eight minutes before he was found and the crew was able to free him," the report said.
"He was resuscitated but never regained consciousness and later died in hospital."
The chief engineer, a Brisbane-based Australian of Sri Lankan descent, possibly tried to pass through the door before it was fully opened and "for some reason it began closing and trapped him".
The commission's investigation found the water-tight door did not comply with the minimum requirements of the International Convention for the Safety of Life at Sea.
The safety management systems on board did not ensure the doors were maintained in line with regulations or good marine engineering standards.
The commission recommended Maritime New Zealand and the International Marine Organisation "address" the issue of water-tight door safety.
It also wants the Australian Maritime Safety Authority to address issues with the safety management system on board the Oceanic Discoverer.
Coral Princess Cruises general manager Mark Fifield said all the issues raised in the report had been fixed before the report was published late last week.
"Two months before the incident we had a full safety system audit and review and the comment was how good our systems were and they were beyond the required standards," Mr Fifield said.
"It was an unfortunate accident."