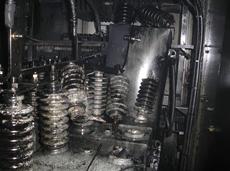 Deteriorating electrical machinery led to an explosion last year on Cunard's Queen Mary 2, safety officials have concluded.
In a final report on the incident issued today, the U.K.'s Marine Accident Investigation Branch says deterioration in capacitors that store energy on the 2,620-passenger Cunard flagship triggered the blast, which took place Sept. 23, 2010 as the vessel was approaching Barcelona.
No one was injured by the explosion, which occurred in a main switchboard room, but it caused all four of the ship's propulsion motors to shut down, leaving the vessel adrift for at least half an hour. The explosion also resulted in a brief shipwide blackout.
"As the vessel was well away from traffic and not in congested or shallow waters, the loss of power for 30 minutes did not cause any navigational difficulties," the report notes. "However, losing control of a large cruise liner due to an electrical blackout, with 3,823 people on board (including crew), is a serious concern."
RELATED: Safety officials issue warning after ship explosion
PHOTO TOUR: A look inside the Queen Mary 2
The 77-page report was critical of a protection system that could have provided an early warning before the explosion but was not functioning and may not have been functioning for several years.
"Protection systems of critical equipment, especially when there are no alternative or back-up systems, must fail safe," the report concluded. "They should also be tested at regular intervals to verify that all the sub-components in the system are functional."
Noting that the Queen Mary 2 had experienced multiple capacitor failures since its debut in 2004, the report also suggested crew members need to be more aware of patterns of problems with machinery.
"The failure to identify the trend of high consumption of capacitors on board QM2 was a major contributory factor in this accident," the report says. "Component failure can often be a symptom of an underlying problem with an equipment or system. Ship managers and crew should be more alert to this."
The report notes Cunard has made procedural changes on the ship since the incident.