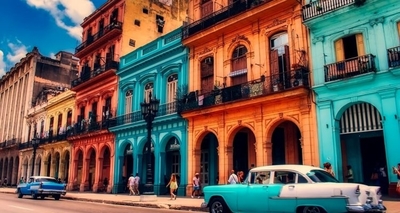 Seabourn, an ultra-luxury cruise line, will launch cruises from Miami and Puerto Rico to Cuba in 2019 with itineraries that include some novel ports of call for the booming Cuba cruise business.
Bookings opened Thursday for the 11-, 12-, or 14-day sailings aboard the 458-passenger Seabourn Sojourn. The itineraries include calls in other Caribbean ports, overnights in three Cuban cities — Havana, Cienfuegos and Santiago — and calls at Cuba's Isla de la Juventud (Isle of Youth) and Antilla (Nipe Bay).
Many Cuba cruise itineraries offer an overnight in Havana, but extra time in the other cities will allow Sojourn passengers to spend more time in Santiago as it celebrates its 500th anniversary and to take a side trip from Cienfuegos to visit the colonial town of Trinidad, a UNESCO World Heritage Site. 
Various Sojourn itineraries also will be calling at either Punta Francés on the Isle of Youth, which boasts coral reefs offshore and crocodile and sea turtle breeding farms, or Antilla, which will allow cruisers to visit national parks in eastern Cuba with exotic flora and fauna.
Richard Meadows, president of Seabourn, described the line's Cuba itineraries as "fresh."
"For many luxury travelers, they aim to find new places to explore and discover meaningful new cultural opportunities," he said. "'Our guests and travel partners have been anxiously awaiting an ultra-luxury travel experience with a wider selection of destinations in this relatively undiscovered Caribbean treasure."
Beginning Nov. 4, 2019, Seabourn will offer two Cuba itineraries from Miami. Two other Seabourn cruises with stops in Cuba will depart from San Juan, Puerto Rico, in December 2019.
Seabourn is the third Carnival Corp. brand to offer Cuba sailings. It will join Holland America Line and Carnival Cruise Line, which will have 23 three- to five-day sailings to Cuba in 2019-20 from Charleston, S.C.; Fort Lauderdale, Tampa and Miami.
Of the 2,507,460 international visitors who arrived in Cuba during the first six months of 2018, cruise passengers represented 15 percent. Last year, cruise passengers accounted for 12 percent of Cuba's record 4.7 million foreign visitors, said Emilio Morales, president of the Havana Consulting Group.
Although cruisers' numbers are growing, they tend to spend much less than visitors who arrive by air who stay in hotels or private bed and breakfasts and eat more restaurant meals, he said.
By Mimi Whitefield, Miami Herald
Re-posted on CruiseCrazies.com - Cruise News, Articles, Forums, Packing List, Ship Tracker, and more
For more cruise news and articles go to https://www.cruisecrazies.com