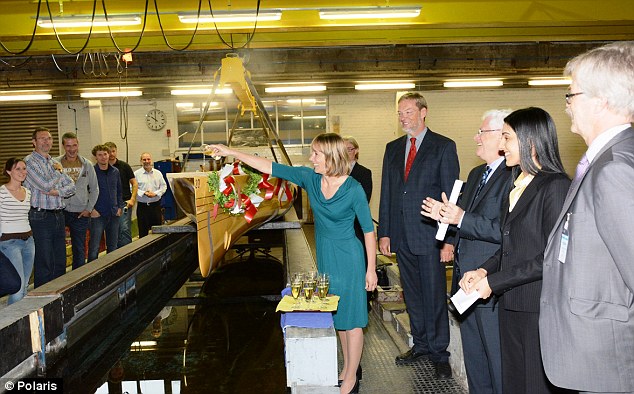 A wooden model of the Titanic II was tested earlier this month ahead of the ship's construction in China.
The 9.3 meter model was put through propulsion and power testing in a 300 meter tank in Hamburg earlier this month. Clive Palmer, who is funding the project, said the tests' results would come back later this year.
The Hamburg Ship Model Basin facility hosted the naming ceremony of the Titanic II model earlier this month. Mr Palmer first announced his intention to build a replica of the Titanic in 2012.
The ship is expected to make its maiden voyage in late 2016 from Southampton to New York.
The vessel will be built to resemble the original ship but upgrades such as air conditioning, a hospital and a helipad are being added, the Telegraph has reported.
The most crucial update will of course be the number of lifeboats on board.
Mr Palmer suggested that there will be no televisions or internet access, and said that passengers will be provided with period clothing should they wish to dress up.
And just like in 1912, there will be three different classes for passengers to choose between. Even the gym and the swimming pool will be almost identical to those on the tragic ship.
'The model testing by the Hamburg Ship Model Basin (HSVA), including resistance and open water tests, is an important part of the process in the Titanic II project,' Mr Palmer said.
'The Titanic II model was tested by HSVA at speeds of up to 23 knots and this testing is crucial for assessing the speed and power performance of this prototype vessel design.' Mr Palmer, who was estimated to be worth $795 million (£511m) by Forbes magazine in 2012 but has refused to say how much the new ship's construction will cost.
Among his other projects is an effort to clone a dinosaur to attract guests to a holiday resort near Brisbane.
Mr Palmer stood in this month's Australian elections after founding his own political party earlier this year.
By Jennifer Smith, Daily Mail
For more cruise news & articles go to http://www.cruisecrazies.com/index.html
Re-posted on CruiseCrazies.com - Cruise News, Articles, Forums, Packing List, Ship Tracker, and more