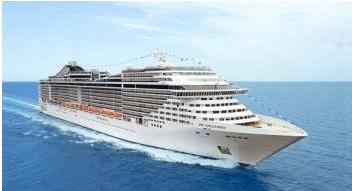 MSC Cruises has announced two unique football themed cruises in partnership with world famous Italian football clubs AC Milan and SSC Napoli.
The Rossoneri Cruise dedicated to AC Milan fans and the Blue Cruise dedicated to SSC Napoli supporters are just two events in a series of initiatives based on MSC Cruises' partnerships with the organizations.
As a top sponsor of AC Milan, MSC Cruises is committed to mutual promotion both domestically and locally. MSC Splendida will turn red and black, the colours of the AC Milan strip, for an eight-day/seven night Mediterranean cruise on board MSC Splendida, departing on 2 June 2012 from Genoa, Italy. With calls in Barcelona in Spain, Tunis in Tunisia, La Valletta in Malta, and Messina and Rome in Italy, each day will be filled with exciting new places, as well as wonderful events and unforgettable moments based on the beautiful game and AC Milan's history.
MSC Cruises is equally proud to be an official sponsor of SSC Napoli, a partnership which started in July 2011 on board MSC Splendida. SSC Napoli's eight-day/seven night Mediterranean Blue Cruise on board MSC Fantasia will depart on 28 May 2012 from Naples, Italy with calls in Palermo in Italy, Tunis in Tunisia, Barcelona in Spain and Marseille in France. Each day will be filled with exciting new places, as well as wonderful events and unforgettable moments based on SSC Napoli's past and present.
These unique eight-day cruises will give fans from both teams the opportunity to spend some time with their favourite players and participate in workshops, as footballers and technical staff of the first team are expected on board. Guest will watch memorable matches of the past with fellow fans, learn more about the athletic preparation of footballers and developments in sports medicine, enjoy training sessions with the players of the first team and technical staff, and take part in tournaments for adults both adults and children.
Guests on board MSC Splendida will experience instant immersion into the amazing rossonero world of the AC Milan players and the technical staff. Milan Junior Camp will be one of the parts of the cruise dedicated to the younger fans. Girls and boys will be able to play on the ship's pitches under the expert supervision of the club's youth team coaches.
Jean Pierre Meersseman, celebrated chiropractor to AC Milan, will give demonstrations, while Milan Lab's fitness instructors and physiotherapists, who provide technological support in decision making processes that aims to provide the best possible management of individual wellbeing and health, will demonstrate their work. Guests will even have the opportunity to follow tailored training sessions.
SSC Napoli fans will be similarly immersed in blue, with evening entertainment including events such as "A whole blue history, the history of the world's most beloved club." Participants will be given a "blue kit" and the book "Napoli 8.5", which summarizes an eighty year love story between the city of Naples and its team.
During the call at Barcelona, a visit to the legendary Camp Nou stadium, the historic "temple" of Spanish football which can host up to 98,787 football fans, is planned for both groups. These voyages will be a chance for the players to get to know some new cities as well as a once in a lifetime opportunity for fans to get up close and personal with some AC and SSC celebrities.