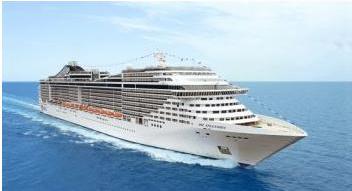 MSC Cruises has created a unique opportunity for guests to experience the very best of the Red Sea, as a new destination for the 2012-2013 winter season.
On November 2 2012 MSC Armonia will depart from Venice, Italy for an nine-day/eight-night cruise, arriving at her new homeport in Sharm El Sheikh, Egypt just over one week later. MSC Armonia's course will take her from the Mediterranean Sea through the Suez transit canal to the Red Sea, with scheduled stops in Ancona, Italy, Heraklion, Greece, and Marmaris, Turkey arriving in Sharm El Sheikh in Egypt on 10 November 2012.
From November 10 2012 through to April 6 2013, MSC Armonia has a full schedule of 21 8- day/7- night cruises, departing every Saturday from Sharm El Sheikh, with scheduled stops in Safaga, Egypt, Elat, Israel, Aqaba, Jordan and Sokhna Port, Egypt.
Guests will even have the opportunity to combine the positioning cruises to and from Sharm El Sheikh with the first and last cruises of the Red Sea season for the perfect mix of days at sea and calls at port in this stunning region.
The Red Sea will say farewell to MSC Armonia on April 6 2013, when she starts her 10-day/9-night return cruise from Sharm El Sheikh to Venice in Italy. Scheduled stops are Sokhna Port, Egypt, Limassol, Cyprus, Antalya, Turkey, Rhodes, Greece, Heraklion, Greece and Kotor, Montenegro.
During the Red Sea experience, guests on board MSC Armonia can enjoy the region's most fascinating attractions and discover not only the breathtaking beauty but also the rich history and culture of the region, with itineraries offering the perfect balance of relaxation, historical discovery and adventure through a diverse choice of shore excursions.