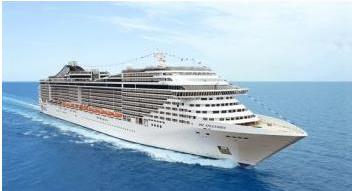 MSC Cruises is offering its German Facebook fans a unique opportunity to set sail with culinary maestro Kolja Kleeberg. One of Germany's most popular and successful chefs, Michelin-starred Kolja will be giving a series of demonstrations on board MSC Lirica in June 2012. To celebrate, MSC Cruises is launching a competition on its German Facebook page which will give one lucky person plus partner the chance to join Kolja on board for an amazing 12-night cruisearound Northern Europe. They will also get the chance to send back reports to fellow fans.
To win this prize, budding chefs should log on to MSC's German Facebook page, click on 'like' and enter the competition. They must then submit a photograph of their own original special chocolate desert – a theme suggested by Kolja - which they should also name. "I am thrilled about my first trip on board an MSC ship. We will depart from Hamburg on 1 June and head towards Northern Europe, the Baltics and Russia and I'm looking forward to exploring the culinary influences of these countries," said Kolja Kleeberg. "In my opinion MSC Lirica is an elegant and contemporary cruise ship and I will take the time to visit the numerous amenities on board such as the MSC Aurea Spa and the theatre."
Kolja is the latest of five top European chefs who have joined the MSC fleet for a series of special cruises. Other chefs who took part are two star Michelin chef Mauro Uliassi (Italy), Michelin starred French chef Gilles Epié, Michelin award winning chef Paul Rankin and the Michelin star winner Paco Roncero (Spain).