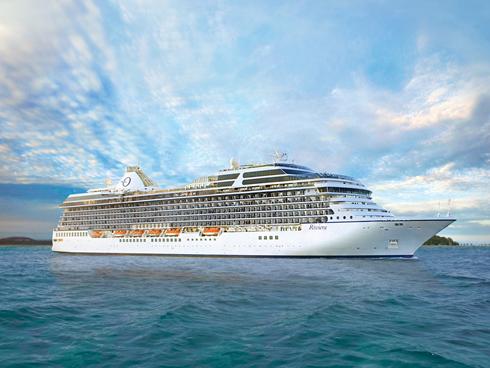 ABOARD THE RIVIERA -- At first glance, Oceania Cruises' new ship, Riviera, looks the same as its award-winning, one-year-old sister, Marina. But identical twins, they aren't.
Frank Del Rio, who oversees Oceania as chairman and CEO of parent company Prestige Cruise Holdings, tells USA TODAY that the company made 727 changes to Riviera's design after Marina debuted.
"Riviera is a superior ship in many ways," Del Rio says in a sit-down interview aboard the vessel, which was named last week in a ceremony in Barcelona. "If any ship is going to dethrone Marina, it is Riviera."
Among the biggest changes to Riviera was the reworking of the Spa Terrace, an outdoor sunning deck for spa-goers at the front of vessel. It now boasts a large thalassotherapy pool that is infused daily with therapeutic seaweed extract. The pool replaces two jacuzzis that are located in the same space on the Marina.
Another difference between the two ships is the ceiling height of Deck 14, which is home on both vessels to top restaurants Toscana and Polo Grill. The ceiling is eight inches higher on Riviera, giving the room a more elegant feel. Lighting on the deck also was changed significantly on Riviera -- as it was in other parts of the vessel.
"We paid a lot of attention to lighting on Riviera," Del Rio notes. "We were very disappointed in the lighting (on Marina) overall. We had lights sort of at random as opposed to (illuminating) artwork."
Other changes to Riviera include more elaborate marble and wood flooring in interior areas that have carpeting on Marina; more teak decks in exterior areas; more chandeliers in public rooms; and the addition of shower heads to bathtub areas in cabin bathrooms (in addition to separate showers).
A number of the changes -- many of them little things -- were prompted by customer feedback to Marina, Del Rio says. Take our photo tour of Marina's public rooms, cabins.
"Customers noted that the depth of drawers (in cabins) weren't deep enough; We fixed it," he says. They also wanted an electrical plug next to nightstands and a light on the cabin sofa so that "if the husband or wife was sleeping, the other one could be on the sofa reading."
Riviera also has a faster Wi-Fi Internet system, another improvement that was a response to customer demand. In fact, Del Rio says slow Internet had become the No. 1 complaint of customers at the line.
"It's expensive (to deliver faster Internet on ships). For every 1,000 kilobytes of bandwith, it's an extra $30,000 per ship per month," Del Rio says. "But at the end of the day businesses either flourish or fail by how well they meet customer demand."
All of the artwork on Riviera, much of it hand-picked by Del Rio, also is different than on Marina.
One thing that Del Rio wishes could have been changed between the two ships that wasn't: The Bon Appetit Culinary Center, billed as the first hands-on cooking school at sea. Del Rio says in hindsight it should have been bigger as the line has had tremendous demand for cooking classes on Marina.
Del Rio says that many of the changes that were made on Riviera will be retrofitted onto Marina in the coming year when the vessel goes into dry dock for the first time.
By Gene Sloan, USA Today