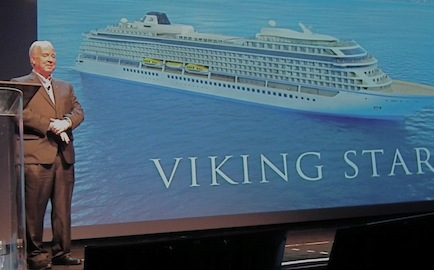 River cruise giant Viking's move into ocean cruising became official late Thursday as the company unveiled details of a new line to be called Viking Ocean Cruises.
Viking Chairman Torstein Hagen told travel agents and media at a California event that the new company would be upscale and focus on destinations in a way that has been lost across much of the cruise industry in recent years.
"It is our view that in the race to build bigger ships, many cruise lines have lost sight of the destinations to which they sail," Hagen said. "With our new ocean cruises, we are applying the same principles behind our award-winning river cruises to our itinerary and ship design; privileged-access excursions; and on-board experiences to make destinations the true focus."
As USA TODAY has previously reported, Viking has ordered two 928-passenger ships for the new line and has conditional orders and options for up to four more. Hagen on Thursday said the first of the 47,800-ton vessels will begin sailing in May 2015 and be called Viking Star. It'll sail maiden voyages in Scandinavia and the Baltic; and the Western and Eastern Mediterranean, he said.
Viking is a leader in river cruising but until now has not operated ocean cruises. The company's fast-growing Viking River Cruises line operates more than 30 vessels, including 10 new ships unveiled in March at a record-setting event in Amsterdam. The company has 12 more river ships on order for 2014.
Viking Ocean Cruises will be the first major new ocean line to debut in nearly a decade and enters an arena dominated by a handful of big players such as Miami-based Carnival Corp. and Royal Caribbean Cruises. Carnival Corp. owns 10 brands that offer ocean cruises including Carnival, Princess, Holland America and Seabourn, and accounts for nearly half of the worldwide ocean cruise business. Royal Caribbean owns five ocean cruise brands including Royal Caribbean, Celebrity and Azamara.
Viking Ocean Cruises likely will compete most directly with Azamara, which operates two upscale, 710-passenger ships, and Oceania Cruises, which has four upscale ships that carry from 684 to 1,250 passengers.
Hagen said fares for the first Viking Star sailings in 2015, which open for sale today, will start at $2,999 per person for a 10-night trip in the Mediterranean. The line also is offering discounted airfare from the USA to Europe starting at $695 per person.
The 47,800-ton Viking Star is being billed as an upscale vessel that initially will sail in Northern Europe and the Mediterranean.(Photo: Viking Ocean Cruises)
Hagen also announced that Viking Ocean Cruises will offer a level of all-inclusive pricing that is relatively rare in the ocean cruising world. In addition to all on-board meals, fares will include shore excursions in every port of call; beer and wine with lunch and dinner; and even wi-fi access -- something that can cost up to 75 cents a minute at other lines.
Hagen said Viking is keeping the new Viking ocean ships relatively small so they can have direct access into most ports around the world, and so passengers have an easy time getting on and off the vessels. The ships will have an understated elegance and modern Scandinavian design, he said. Cabins will be large for a cruise ship, with the smallest of five cabin categories having 270 square feet of space. In addition, every cabin will have a balcony.
Fourteen two-room suites on the ship will range from 757 to 1,448 square feet and offer sweeping views from wrap-around private balconies
By Gene Sloan, USA Today
For more cruise news & articles go to http://www.cruisecrazies.com/index.html
Re-posted on CruiseCrazies.com - Cruise News, Articles, Forums, Packing List, Ship Tracker, and more