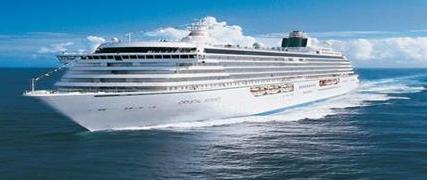 LOS ANGELES, March 26, 2012 /PRNewswire/ -- Gandhi, U.S. Generals, novelist Jeffrey Archer, and the casting genius behind Modern Family are just a few of the highly-esteemed enrichment speakers scheduled to appear aboard ultra-luxe Crystal Cruises in Europe this year. The top-caliber Special Interest, Destination and Celebrity Guest Speakers will provide insight into global topics, local culture or their own life and wisdom on individual Crystal Serenity and Crystal Symphony voyages from May through December.
From PBS to Fox, presenters' reputations are the cream of the crop in their fields, with such luminaries as:
Arun Gandhi (May 9 Barcelona to London) – Peace activist, founder of the M.K. Gandhi Institute for Nonviolence and grandson of Mahatma Gandhi.

General Anthony Zinni (May 21 London to Hamburg) – Four-star U.S. Marine Corps General and former Commander in Chief of U.S. Central Command (CENTCOM).

Jeff Greenberg (May 24 London to Rome) – Emmy Award-winning Casting Director of Modern Family and Frasier.

Lord Jeffrey Archer (Jun 19 Venice to Istanbul) – Bestselling author of fifteen novels such as Kane & Abel and the recent Clifton Chronicles series

Joel Harper (Oct 12 Athens to Venice) – Celebrity trainer for Dr. Oz, Olympic medalists, and PBS's best-selling Firming After 50.

Owen Ullman (Jul 23 Stockholm to Copenhagen) – News editor of USA Today.

Dinesh D'Souza (Jul 13 Monte Carlo to Lisbon) – Top public policy-maker and political conservative author.

Paula Pryke (Jul 25 Lisbon to Rome, "Floral Design" theme) – Celebrity floral designer from Britain

Eric Burns (Nov 5 Istanbul to Barcelona) – Emmy Award-winning NBC News correspondent and former host of Fox News Watch.

General Nick Halley (Aug 25 London Round-Trip) – Military commander during Vietnam, Grenada, and Desert Storm, and now leadership and terrorism expert.

Jon Sigurdsson (May 8 NY to London) – Icelandic geologist who studies glaciers and volcanoes throughout Europe.

Other noteworthy names joining Crystal's European cruises include Astronaut Mark Kelly and wife, former Congresswoman Gabby Giffords, Master Chef Nobu Matsuhisa, and legendary football coach Don Shula and a host of other presenters, instructors, and entertainers. As part of a new "Local Insights" program this year, Crystal is also bringing aboard local European dignitaries and experts to share "insider" information on the region's life and customs.
"Our world travelers are not only adventure-seekers, they're knowledge-seekers, so our on-board presenters need to deliver smart, stimulating, and shrewdly entertaining enlightenment that not only provides food for thought, but also sparks lively discussion among guests throughout our voyages," says Chris Corrigall, manager, entertainment. "As the 'World's Best' cruise line, we bring nothing but the world's best minds aboard to enrich guests' overall vacation experiences."
Crystal sails through Europe on 35 7- to 14-day voyages from March to December 2012, offering intimate, luxury access to the eastern and western Mediterranean, Greek Isles, Black Sea, northwest Africa, western Europe, including Iceland and the British Isles, the Middle East, the western and eastern Baltic Sea, Scandinavia, and Arctic Circle. Several voyages offer themed activities and entertainment, such as "Wine and Food," "Golf," Big Band," and "Emerging Artists."
Until April 30, "Book Now" fares start at $1,945 per person/double occupancy for seven days in the Mediterranean, with additional savings available for combining select voyages. Attractive air add-ons are also available from more than 90 North American airports.
Crystal's award-winning, luxury cruises always include a diverse selection of thought-provoking, scholarly, and sophisticated enrichment activities that provide extensive onboard choices for cultured world travelers.