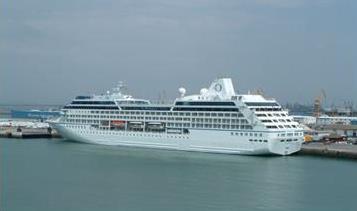 Oceania Cruises' 1,250-guest Riviera, scheduled to be christened in Barcelona on May 11, 2012, successfully completed her sea trials today, which included three days of sailing the Mediterranean.
During the sea trials, technicians and engineers from Fincantieri's Sestre shipyard along with Oceania Cruises' marine and technical teams performed a comprehensive evaluation of the vessel's functionality, including speed, maneuverability, hydrodynamics, propulsion and safety systems.
"Riviera exceeded all of my expectations. While underway the ship handled perfectly in all sea conditions and power settings" said Captain Luca Manzi, the ship's master. "Riviera cruised at more than 21 knots with ample reserve power."
Now that sea trials are concluded, the 66,084 ton ship will dock at the outfitting berth, where workers will put the finishing touches on her interiors as well as exterior.
"Riviera's sea trials were a resounding success," stated Robin Lindsay, the line's executive vice president of vessel operations, who was on board during the sea trials. "With the sea trials behind us, we will turn our undivided attention to the final details of the interior. Guests on our May 16 maiden voyage are certainly in for a treat."