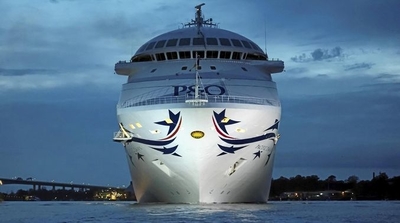 Authorities have called off the search for a woman who fell overboard from a P&O cruise ship near New Caledonia on Thursday.
The captain of the Pacific Dawn told passengers on Friday the woman could not be found and the ship was heading back to Brisbane.  The woman fell overboard about 4pm on Thursday, about 150 nautical miles west of New Caledonia, during a week-long cruise in the Pacific.
A search began immediately and continued through the night, with rough conditions hampering efforts. It was officially called off on Friday at 7.30am as hopes faded of finding the missing woman.
"It is with a very heavy heart that I need to let you know that we have been unable to locate our guest," the captain of the Dawn Pacific told passengers on Friday morning.
"We are still in the area of the incident, and the weather conditions with the swell three to four metres high, as you can see outside, the strong wind made our search extremely challenging.
"As a result, we have now made the extremely difficult decision to continue our journey towards Brisbane. I know I speak on behalf of all of you when I say our thoughts and prayers are with the family."  The woman was believed to have been on holiday with her husband and children. Passengers said her husband saw her fall and went into shock, the Courier-Mail reported.
"The difficult decision to suspend the search was made only after expert advice that survival after this length of time in difficult sea conditions and after a full night at sea was not considered possible," Carnival Australia spokesman David Jones said.
Jones said earlier that a crew member notified the bridge as soon as the woman fell and the "man overboard" incident response was activated immediately.  "In line with this response, Pacific Dawn turned around to follow the course it was on at the time of the incident."
The Australian Maritime Safety Authority and New Caledonian authorities issued a call for nearby vessels to assist in the search.  Queensland police officers would board the ship when it arrived in Brisbane on Saturday about 11am, she said. A passenger, who asked not to be named, described the atmosphere on the ship as "very sad, solemn and quiet".
The ship was on a seven-night cruise from Brisbane to the South Pacific with scheduled calls to Noumea, Lifou and Port Vila.
By Australian Associated Press
Re-posted on CruiseCrazies.com - Cruise News, Articles, Forums, Packing List, Ship Tracker, and more
For more cruise news and articles go to https://www.cruisecrazies.com