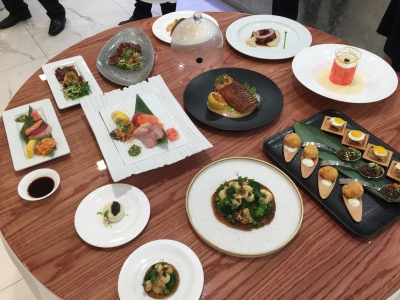 By Gerry Barker
DORAL, FL._In May, Regent Seven Seas Cruises announced a new, plant-based menu that would be offered across its fleet of ships beginning in October. Last night, Pam and I were among a small group invited to get a sneak preview of both the new menu and the culinary experience guests can expect on their newest ship, Seven Seas Splendor, debuting next February.
As you might expect from the luxury cruise line leader known for "an unrivaled experience," the event was first rate in every way.
Hosted at the state-of-the-art Eric Barale Culinary Center, named for the Apollo Group's Senior Culinary Director and Executive Chef, Eric Barale, we were greeted by Randall Soy, Regent's executive vice president for sales and marketing, Joe Chabus, director of public relations and Bernhard Klotz, Regent's executive chef and vice president of food & beverage. Barale and his staff were also there to assist throughout.
Anticipation is building for the launch of Regent's fifth and ultra-luxurious ship, Splendor. Judging by the photos and renderings on display, it promises to take a Regent's motto of an "unrivaled experience" to a new level.
The first order of business was getting a glass of Pam's favorite champagne, Veuve Cliquot. No question that got the evening off to the right start.
Our assignment, which we happily accepted, would be to sample a variety of dishes prepared by Chef Klotz and the Culinary Center team. Did I say dishes? More to the point, works of culinary art. Our table was elegantly appointed, just as it might be aboard one of Regent's ships, but the vibe was casual and friendly, which was appreciated.
For starters, they brought out a tray of amuse bouche selections (those French, single-bite hors d'oeuvres). To sample the new plant-based offerings, we were served Sweet Potato and Oat Tart, consisting of roasted cauliflower, broccoli, pine nut-basil pesto, cashew cheese and fried capers. In a word, divine.
It was followed with Siberian Osetra Caviar, a creamy concoction of smoked haddock mousse and lemon cream. So good.
Accompanied by the Clicquot and a selection of red and white wines, we moved on to the "Starters." While all the presentations were outstanding, the serving of the assorted sashimi drew the most "ahhs." It was plated over dry ice, producing a waterfall of cascading smoke that flowed around the table.
Next was the Seared Dover Scallop, with pork belly confit and orange pomegranate sauce, followed up with another presentation "wow" -- Applewood Smoked Salmon Steak. Each serving was plated under a clear cover to capture the smoke, and -- voila! -- all were opened at the same time. The taste was every bit as good as the theatrics.
But wait -- there's more. The main course, in fact. This was an interesting moment for us. When we got the invitation, it asked about any dietary restrictions. Pam and I only have one -- no red meat. Before the main course arrived, which was Veal Rack Loin, Chef Klotz discreetly came over and informed us he had prepared a special dish just for us: Chicken with the most amazing sauce we have ever tasted. We were so impressed, on all counts.
Finally, it was time for dessert. Could we eat anything else? When you hear it's the rarely-served classic, Floating Island of French Meringue, you bet. Unbelievable, and so beautifully done.
Afterwards, Klotz talked about the 200-plus new plant-based menu offerings guests on Splendor and other Regent ships will soon experience. "Plant-based cuisine is an emerging trend," he said. "There are a number of options guests can choose for breakfast, lunch and dinner."
Added Soy: "You don't have to be vegan to enjoy them." Pam and I are proof of that.
One final word to the lucky passengers who'll be the first to sail on Splendor: Pace yourself. Your next port of call is food nirvana.
(Gerry Barker is a freelance travel writer who has covered the cruise industry for 10 years, formerly with The Palm Beach Post. He and his wife Pam maintain a Cruise Blog on NorthPalmBeachLife.com)