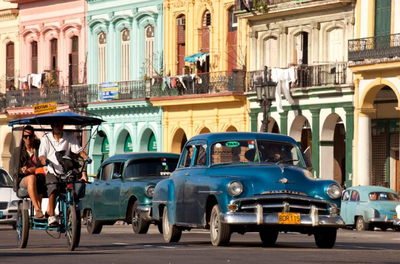 In August 2018, when luxury cruise line Regent Seven Seas Cruises announced its first immersive cruise to Cuba would set sail in March 2019, the new itinerary proved to be so wildly popular that it sold out within two weeks.
Because this high demand suggested that luxury travelers are interested in longer, overnight port stays and want to visit multiple cities in Cuba, the cruise line just announced a second immersive cruise experience.
Seven Seas Mariner will be sailing on a 10-night immersive, Cuban Exploration voyage, leaving Miami on October 22, 2019 and returning on November 1.
As opposed to conventional cruise ship itineraries that arrive at ports in the morning and leave the same afternoon or evening, immersive itineraries allow more time and opportunity for guests to truly experience a destination, its people and culture.
Cruising is a particularly convenient way to visit Cuba because of the many rules and travel restrictions in place for U.S. citizens, and because the country's tourism infrastructure isn't yet fully developed.
"Cuba is still logistically tough to visit by land, especially if you want to venture beyond Havana, and a cruise offers easy options to explore the island, visiting multiple ports and offering a choice of shore excursions," says Erica Silverstein, Senior Editor at Cruise Critic. "For travelers who might be overwhelmed booking hotels and navigating foreign restaurants in Cuba, cruise ships offer comfortable accommodations and plentiful dining venues."
"With more lines than ever cruising to the region, there are plenty of options for travelers of all kinds – those looking for a more mainstream cruise experience, or those looking for a smaller-ship, more luxurious experience, like those offered by Regent," says Silverstein.
About the Seven Seas Mariner voyage to Cuba 
The Seven Seas Mariner Cuban Exploration itinerary includes a full day and evening in Havana as well as overnight stays in the ports at Santiago de Cuba and Cienfuegos. Guests are offered onboard enrichment programs linked to the destination as well as a variety of land-based cultural immersion activities, depending on their interests.
"These wonderful, educational experiences are important to luxury travelers to feel immersed in the destination, and are delivered in intimate group settings that allow for interactions with experts and locals," says Jason Montague, President and CEO, Regent Seven Seas Cruises.
Just to provide a few examples among many: In Havana, a lunch excursion at the farm-to-table Mediterráneo Havana restaurant includes the opportunity to visit two farms from which the restaurant's food products are locally sourced. After dark, guests are invited to enjoy traditional music—and meet musicians, dancers and choreographers of the Buena Vista Social Club—at the Habana Café.
The line's guided excursions at Santiago de Cuba (which served as Cuba's capital for almost a century) offers passengers opportunities to discover the cultural roots of Cuban music, literature and architecture. At Cienfuegos, passengers explore the city's historic colonial center, a UNESCO World Heritage Site, whose iconic architectural treasures include the Arch of Triumph, Casa del Fundador, and Tomas Terry Theater.
The all-suite, 700-passenger Seven Seas Mariner recently emerged from a multimillion-dollar bow-to-stern refurbishment in 2018. In addition to elevating the design and décor of the ship's public spaces and culinary experiences, all of the ship's spacious, well-appointed guest suites have been refreshed and upgraded.
Regent Seven Seas Cruises promises guests "the most inclusive luxury experience" at sea. All-inclusive fares for the Cuban Exploration voyage on Seven Seas Mariner start at $5,499 per person and include round-trip airfare, transfers, shore excursions, dining at the ship's upscale specialty restaurants, complimentary fine wines and spirits, and free Wi-Fi. 
By Irene S. Levine, Forbes
Re-posted on CruiseCrazies.com - Cruise News, Articles, Forums, Packing List, Ship Tracker, and more
For more cruise news and articles go to https://www.cruisecrazies.com