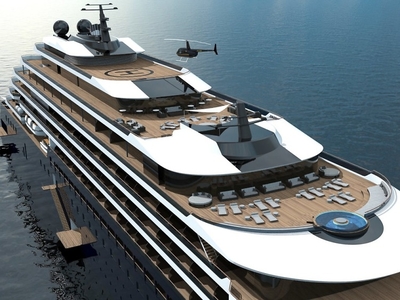 Hotel chain Ritz-Carlton's much-awaited expansion into cruising marked a major milestone on Wednesday as its first vessel touched water.
The as-yet-unnamed, 298-passenger ship was launched stern-first down a slipway into the water at the Hijos De J. Barreras Shipyard in Vigo, Spain. The vessel has been under construction at the shipyard since January. 
The event was commemorated with what is known in the maritime world as a launching ceremony, in keeping with maritime tradition. The ceremony included a traditional maritime blessing. 
The vessel now will undergo months of finishing work before entering service in late 2019.
The initial stages of a cruise ship's construction take place in a dry dock facility. Once exterior outfitting is complete, the vessel is launched into the water and floated to a wet dock where construction continues. The transition is considered a major milestone in the multi-year process of building a cruise ship.  
The vessel launched on Wednesday is one of three on order for Ritz-Carlton's new cruise division, called The Ritz-Carlton Yacht Collection. Ritz-Carlton is calling the vessels yachts in an effort to highlight their small size relative to many cruise ships. 
As previously announced, the ships will measure about 690 feet long and have 149 cabins, all of which will be suites with private balconies.
The vessels will feature a restaurant by chef Sven Elverfeld of Aqua, the three Michelin-starred restaurant at The Ritz-Carlton, Wolfsburg in Germany. Other announced features include a Ritz-Carlton Spa.
By Gene Sloan, USA Today
Re-posted on CruiseCrazies.com - Cruise News, Articles, Forums, Packing List, Ship Tracker, and more
For more cruise news and articles go to https://www.cruisecrazies.com