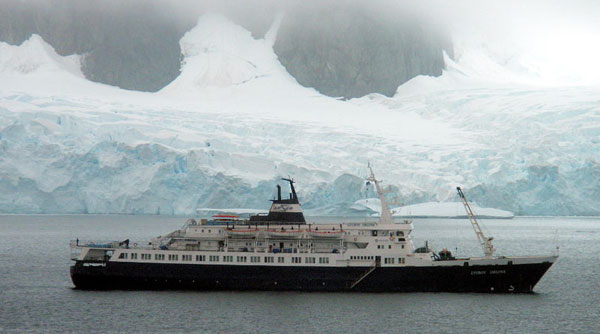 An abandoned Russian cruise ship, drifting in the sea with no crew or warning lights, has turned up off the west coast of Ireland.
The MV Lyubov Orlova – once used by the Soviet Union for polar cruises and expeditions - was being towed from Canada to a scrapyard in the Caribbean in January when a cable snapped setting it adrift in international waters.
At the time, the Canadian authorities said it was decided not to pursue the drifting vessel as there are no people aboard the ship and there was a serious concern for the safety of Canadian sailors involved in the salvage operation, given the weather and dangerous sea conditions.
Transport Canada later claimed the ship was no longer Canada's responsibility because it had drifted out of the country's jurisdictional waters.
A week or so later on February 1st, the derelict vessel was intercepted by the Atlantic Hawk, a supply craft used by the Canadian energy firm Husky Energy, only to be cut loose once again in response to fears of a possible collision.
Following this incident, Transport Canada insisted the vessel no longer posed a threat to "the safety of offshore oil installations, their personnel or the marine environment".
"The vessel has drifted into international waters and given current patterns and predominant winds, it is very unlikely that the vessel will re-enter waters under Canadian jurisdiction," it said.
However, earlier this week, maritime officials admitted they did not know the location of the ship as its global positioning system was no longer functioning. Since then there have been conflicting reports as to the ship whereabouts.
That was until a document from the National Geospatial-Intelligence Agency obtained by the AFP news agency yesterday said the Lyubov Orlova had now been spotted about 1,300 nautical miles from the Irish coast.
The ice-strengthened ship - named after the Soviet star of the same name – was built in 1976 by the Russian-based Far East Shipping Company.
She served as an expedition cruise ship before being abandoned dockside in St John's, Newfoundland.
By Eoin Burke-Kennedy, Irish Times
Re-posted on CruiseCrazies.com - Cruise News, Articles, Forums, Packing List, Ship Tracker, and more