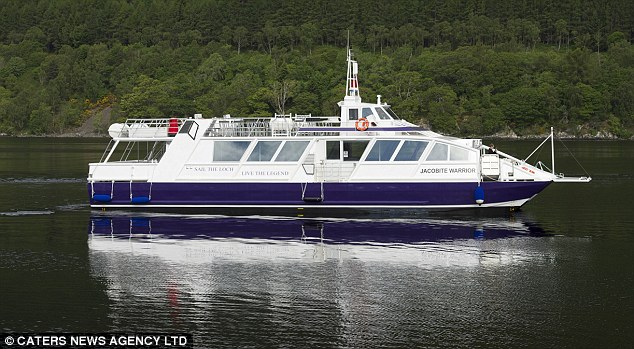 You certainly can't accuse this business of not insuring against all possible incidents on the water.
Cruise ship company Jacobite Cruises, based in Inverness, is in line for a six-figure payout if one of its boats is damaged by the Loch Ness Monster.
Jacobite Cruises owner Freda Newton now hopes Nessie will keep away from the firm's boats if she makes another appearance so she doesn't have to make a claim on her £1 million insurance package.
She said: 'I don't know what the odds of this actually happening might be, but this is Loch Ness.
'How silly would we look if it did and we weren't covered for it? I hope we never have to make a claim and if Nessie does make another appearance, she gives our boats a wide berth.'
The deal was struck with local firm Towergate Moray Firth. Director Bob Jack said: 'This is probably the most unusual insurance request we have ever had, but we are delighted to provide cover.
'I'm sure everyone who sets sail on the loch would settle for a sighting of Nessie rather than a much closer encounter. We wish Jacobite, their passengers and crews many more happy voyages on the loch without any claims on this policy.'
Jacobite Cruises owns three vessels, offering daily trips on Loch Ness and annually carrying around 10,000 sightseers. Its insurance policy comes on the 80th anniversary of the first Nessie 'sighting'.
The first modern 'sighting' of the monster was by Aldie Mackay, manager of the Drumnadrochit Hotel in Inverness. Her account was reported in a local newspaper on March 14, 1933.
Nessie has been the subject of many 'sightings'. Some experts believe that the beast represents a line of long-surviving plesiosaurs, a type of carnivorous aquatic reptile from millions of years ago.
The creature is similar to other supposed lake monsters, though its description varies from one account to the next, and there have been hundreds of supposed 'sightings' over the years.
One of the most accepted explanations is that the monster is in fact a giant sturgeon, which can grow up to 12ft long. Others include eels, bird wakes, seals, trees, logs, submarines and dogs.
By Mark Duell, The Daily Mail
For more cruise news & articles go to http://www.cruisecrazies.com/index.html
Re-posted on CruiseCrazies.com - Cruise News, Articles, Forums, Packing List, Ship Tracker, and more