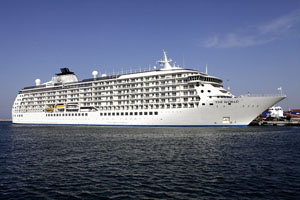 South Korea has been trying to boost its tourism industry as part of its effort to strengthen the domestic economy. On Wednesday, it unveiled its latest plan: getting into the cruise ship business.
The plan includes tax benefits for cruise ship operators and training programs for workers who will be employed by the industry, as well as a green light for on-board casinos for foreigners.
The initiative comes amid expectations that Chinese tourists—who are already a key source of income for Korea's relatively small tourism and retail industry–will boost demand for cruise tourism in Asia in coming years.
Korea doesn't have a local cruise ship operator yet, but the government hopes that changes in regulations will allow the industry to develop.
The plan also includes increased terminal and port capacity in order to accommodate a greater influx of cruise ship tourists. Korea currently has just two ports for cruise ships, one in the southern port city of Busan and another at Jeju island, but the government aims to build up or expand dedicated terminals in existing ports as well as in other areas like Incheon and Yeosu on the southwest coast.
It remains to be seen whether a domestic cruising industry will spring up (if it does, surely only the hardiest travelers would be interested in chugging around Korea's coastline during the frigid winter months).
But the plan highlights the need for South Korea to do more to boost its relatively poor infrastructure for tourists and make its economy more resilient to the ebbs and flows of global trade.