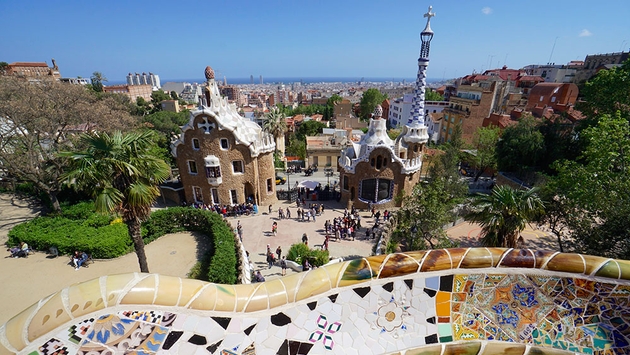 At first glance it would appear that the modern cruise industry is only concerned with building ever more elaborate mega ships that serve as destinations themselves, but another less obvious trend is moving towards smaller ocean vessels and riverboats. And Viking Cruises is a leader in both with its Viking Ocean Cruises and Viking River Cruises brands.
In fact, as I write this, I'm aboard the ocean line's newest, Viking Sea, sitting in its beautiful double-decker observation lounge, the appropriately titled Explorers Lounge, where there is a welcome shift in focus back to the destination itself. Floor-to-ceiling windows, and even glass stairs, offer expansive wraparound views of Cadiz, Spain today and an increasingly international collection of port cities tomorrow and farther into the future.
While Viking Ocean Cruises frequents the Baltic and Mediterranean with its two ships for now, the Viking Star is set to head across to the United States and the Caribbean in the fall. Plus, the fleet will expand to at least six ships through 2020 and surely deploy to worldwide regions beyond as it grows. In the meantime, the template Viking presents is one that places the priority on the destination, and everything else follows.
Remarkably, the ocean line comes very close to a luxury product at a fraction of the cost, and, like on the river brand, its sea fares even include one shore excursion in every port, usually an overview tour for first-time visitors. Other excursion options provide a deeper dive at reasonable costs. For instance, I enjoyed a Gaudi architecture tour in Barcelona, Spain for only $69, and thats the kind of thing that excites me as a millennial even over waterslides and rock climbing walls.
I had the chance to previously see the iconic Sagrada Familia church under construction from the outside, but I was particularly excited to check out its interior on my visit. Thanks to Viking, I was able to do just that, and I was blown away by the opportunity. While its doubtful the cathedral will be completed by its 2026 target date, its something else to see it now knowing I'll most likely return once it does finally finish, hopefully via another Viking voyage.
Elsewhere onboard the Viking Star and Viking Sea, the destination continues to take center stage. Knowledge on related subjects literally permeates every nook and cranny. Rather than having a dedicated library room, the entire ship acts as one since books are found everywhere on shelves and cubbies and even around the pool. Expert lectures also discuss the ports that are visited, and the tapestry-sized LED screen at the top of the atrium stairs displays dramatic high-definition images of locations on quarter-hour rotation.
Viking cruise ships dont have bells and whistles (well, it does have a horn at least), but its brands accurately realize they dont require them. The ports are plenty, and, while other attractions certainly have their place, they sometimes distract from the destination. Viking instead chooses to accentuate it.
Article Courtesy of Jason Leppert/Travel Pulse and Seven Sea Journeys/News (4/28/16)
Re-posted on CruiseCrazies.com - Cruise News, Articles, Forums, Packing List, Ship Tracker, and more.
Please visit CruiseCrazies.com for more cruise news & articles.
Featured photo credit: Jason Leppert