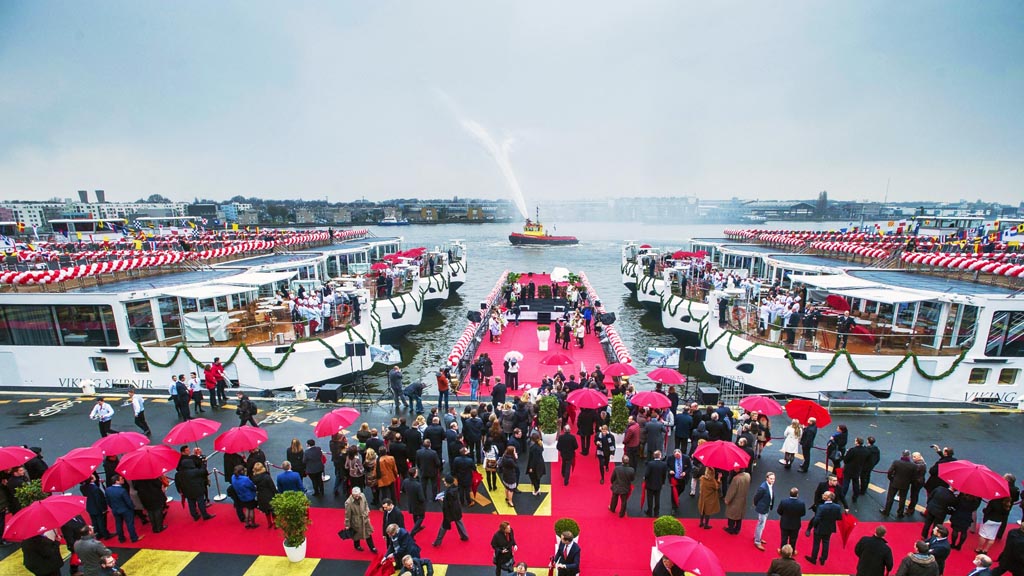 Viking River Cruises yesterday christened six new long shipsthe latest in its aggressive expansionat a waterfront ceremony in Amsterdam.
Although the weather didnt cooperatethe ceremony took place in driving rain and cold temperaturesthe celebration took place without a hitch with an enthusiastic reception from Viking executives and crew, visitors and the six godmothers who christened each vessel.
In a nod to the importance of travel agents, Viking chose as the ships godmothers, six women representing travel trade organizations throughout North America and the United Kingdom.
Travel agents have done a great job for us, said Torstein Hagen, chairman of Viking Cruises. River cruising remains one of the fastest-growing segments of travel, and we would not be the leading river cruise line without the help of travel agents.
The christening marked another year of impressive expansion for Viking, occurring just two years after the company set a second Guinness World Record for the most new ships launched in a single day.
It also comes one month before Viking Ocean Cruises is set to launch its second ship, Viking Sea.
Four of the six new longships will be deployed on Vikings most popular itineraries on the Rhine, Main and Danube Rivers. The other two will sail the Seine River on Vikings Paris and Normandy itinerary.
A seventh new longship will debut in a couple of weeks, said Hagen. It has been built specially for the Douro River, bringing the companys total number of ships in Portugal to three.
Before the ceremony, Hagen discussed Vikings impressive growth since its founding in 1997 with four ships in Russia.
Vikings river cruise fleet now approaches 70 and it has a 49 percent share of the North America river cruise market, a figure Hagen said is underestimated.
Hagen said that everyone in the river cruise space has experienced a slowdown in Europe this year due to the Paris terror attacks and other incidents.
But Viking continues its great leap forward, he added. We generate demand by aggressive marketing.
In fact, Hagen announced that on Feb. 28, Viking set an all-time record for the most bookings in one day: more than $25 million in gross bookings.
Were back on track, he added.
The godmothers for the new Viking longships are:
Lisa Anciaux, Godmother of Viking Rolf, is the director of travel products for AAA Washington
Beth Butzlaff, Godmother of Viking Kadlin, is the managing director of cruise sales for Virtuoso.
Michelle Chimko, Godmother of Viking Alruna, is the chief operating officer of Alberta Motor Association.
Jennifer Gasser, Godmother of Viking Egil, is the vice president of supplier relations and product operations for World Travel Holdings.
Beryl Gibson, Godmother of Viking Vilhjalm, is the joint owner of Northumbria Travel Limited.
Sinead OConnell, Godmother of Viking Tialfi, is the director of industry relations for Vacation.com.
_______________
Article Courtesy Travel Pulse and Seven Sea Journeys/News
- http://sevenseajourneys.agentstudio.com/news.html
Re-posted on CruiseCrazies.com - Cruise News, Articles, Forums, Packing List, Ship Tracker, and more.
Please visit CruiseCrazies.com for more cruise news & articles:
http://www.cruisecrazies.com/index.html/_/cruise-news/
Featured photo credit: Viking Cruises