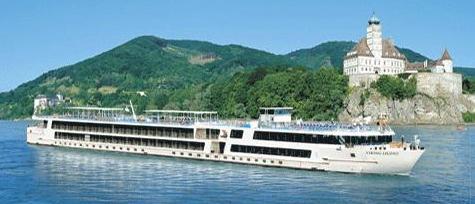 Viking River Cruises has been bragging that its new 190-passenger "Longships," all named for Norse gods and heroes, would revolutionize river cruising. In fact, the cruise line is so bullish on these vessels that it's ordered a dozen of them, all to be launched by the end of 2013 (six in 2012 and six in 2013).
Stepping onto Viking Odin which, along with Viking Idun is the first to debut, it's immediately clear the company has some reason to toot its own horn.
The reference to old Viking ships notwithstanding, the German-built Viking Odin and its sister ships represent a totally new take on river hospitality. Forget the old and stodgy; bring on the new.
Light fills the beautiful two-story atrium -- so much sunlight there are real daffodils growing. With backlit marble panels rising above a terrazzo floor and grand wooden staircase, and comfortable furnishings in pale shades, the space has magnetic appeal. If the ambience reminds some of Seabourn's Odyssey class, that's not a coincidence -- the vessels share the same lead designer, Norwegian firm Yran & Storbraaten.
The atrium previews the smart use of glass, light and subtle colors throughout Viking Odin, but beyond that are a whole bunch of features new to river cruising in Europe, including the two largest real suites (each with separate living room and bedroom) on a riverboat in Europe and a larger number of cabins with full and French balconies.
Deserving the biggest buzz is Aquavit Terrace, a lovely open-air cafe on the ship's bow, providing somewhat of a river rarity: an alternative casual dining venue.
The designers' creation of such new spaces required a lot of rethinking about the basic structure of river ships. To fit under the bridges and through the locks of Europe's inland waterways, riverboats have to meet specific size requirements. You can't expand length or depth.
Instead, Yran & Storbraaten changed the traditional pointy-nosed bows to snub-nosed ones to provide more space for Aquavit. It also positioned interior corridors off-center to accommodate cabins -- full balconies on one side and narrower cabins, some elevated to suites with separate sleeping and living areas, placed sideways on the other side.
Less visible but no less cutting-edge are the ship's "green" advances, including hybrid engines, making Odin cleaner and quieter than its competitors. There are even solar panels on the sun deck that help fuel the engines.
The ride is slow and smooth -- a wonderful thing about river ships in general since there is no reason to worry about seasickness -- while you pass by scenery that includes castles and vineyards.
Viking Odin godmother Joanna Lumley, who played Patsy on the BBC series "Absolutely Fabulous," eloquently described the river cruise experience at Viking Odin's christening this way: "It's like the world is on a cloth and being dragged past you by captains sent from paradise."
Viking Odin Fellow Passengers
Viking River passengers tend to be 60 and older (sometimes much older). But the "Longships," with their contemporary design, are expected to bring the demographic down, the goal being to appeal to 40- and 50-somethings in addition to Viking River's traditional passengers.
Viking Odin Dress Code
Casual, comfortable attire is encouraged for both ship and shore. The must-have item is a comfortable pair of walking shoes or sneakers for tours (which may involve cobblestones and other uneven surfaces). Some passengers dress up slightly at night -- think the kind of attire you'd wear to dinner at a country club. Others don't bother to change at all. Save your best outfits (maybe casual dresses for women and collared shirts and blazers for men) for the Captain's Welcome Party and Farewell Dinner
Viking Odin Gratuity
Tips are not included in the cruise fare. They are paid at the end of the cruise in cash or by credit card. (Euros are the onboard currency, but dollars are also accepted for gratuities.) The recommended amount on Viking's Europe cruises is 12 euros per passenger, per day, which is divided up among the crew.