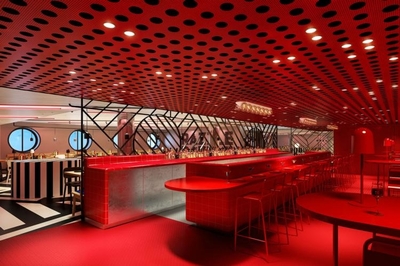 Virgin Voyages has promised to "throw out the rule book" around onboard dining with no buffet or supplement charges to eat at any of the 20-plus food venues for its first ship Scarlet Lady.
The line said it "does not believe in paying more for great food" and so had decided to ditch the charges traditionally applied to speciality restaurants.
Virgin Voyages released new designs for restaurants, lounges and casual eateries for Scarlet Lady last night, describing how it had created all venues to "offer exceptional made-to-order eats" and had opted to include all restaurant food in the voyage fare.
There will also be no main dining room, formal wear, assigned seating or dining times, with venues open "well into the night and in some cases the early hours of the morning".
Aiming to be "one of the cleanest fleets at sea" Virgin Voyages will ban single-use plastics for its sailors [guests] and there will be no buffet onboard the ship.
The line said the move would "significantly reduce waste and reinvest savings into clean technology and quality products for its sailors".
Scarlet Lady will sail from PortMiami in 2020 with Caribbean cruises and calls to Havana on selected itineraries.
Among new venues onboard the ship is Wake, a 5,866 square foot restaurant at the aft of the ship, offering guests a "dramatic view of the ship's wake" and serving a "theatrical take" on steak and seafood.
Virgin Voyages said another venue, Razzle Dazzle, would give a "vibrant and creative twists" on vegetarian food and juices with passengers also treated to a Drag Brunch, with performances by Scarlet Lady's resident drag performer and friends.
For a small fee, passengers can opt to enjoy bottomless drag-inspired cocktails like the "Yasss Queen".
Korean BBQ restaurant Geonbae, specialist Mexican venue Pink Agave and Extra Virgin, serving Italian cuisine, will also feature as part of Scarlet Lady's line-up of dining choices.
Tom McAlpin, Virgin Voyages president and chief executive, said: "We want our eateries to delight and ignite serendipitous experiences for our sailors, so have set out on a mission to capture the spirit of dining in the best cities of the world and bring it to sea.
"Because food is the fuel for our bodies and souls, and we're Virgin Voyages, naturally it all had to be included within your ticket price."
By Tom Parry, TTG Media
Re-posted on CruiseCrazies.com - Cruise News, Articles, Forums, Packing List, Ship Tracker, and more
For more cruise news and articles go to https://www.cruisecrazies.com