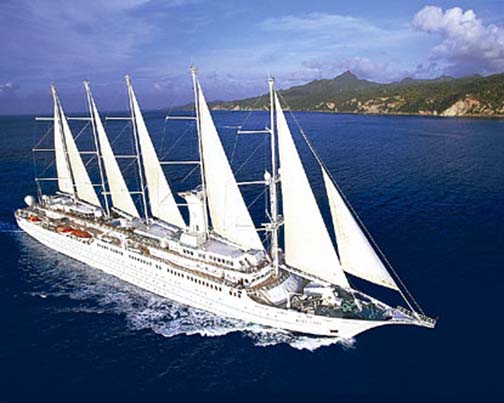 Powered by a new owner, new leadership, and $18 million of renovation, Windstar Cruise's three ships are sailing again with vim, vigor, a contemporary interior, and a batch of new sails that total the size of seven football fields.
Windstar's energetic president and CEO, Hans Birkholz, said that bookings for 2013 are up 60 percent over 2012, and that the cruise line is looking to expand. Birkholz said that means additional ships, coming soon, though the vessels may be without sails.
After a week in the Caribbean on the spruced-up flagship, Wind Surf, I can say that Windstar is back among ships in the upper premium cruise market. The style, atmosphere, food, service and energy aboard easily equaled — and surpassed — those of the same ship when I last cruised on Wind Surf in the Med in 1998.
Vacations on a sailing ship are a tiny portion of the cruise business. But the sailing market niche is deep, attracting a worldly bunch of soft adventurers — riding the waves with a glass of wine instead of toiling on deck — to the masted fleets of several companies, including Windstar, Star Clipper, and Sea Cloud.
Passengers who prefer this upscale casual style of cruising, entertaining themselves with the romance of moving about the seas with the winds (their capriciousness tamed by motors when necessary), tend to return, over and over again, to the handful of small sailing vessels that ply such destinations as the islands of the Caribbean and Mediterranean.
A few years ago, business was slipping for Windstar Cruises, a major line with a premium past. In the 1990s and into the last decade, Windstar was known as a place for barefoot elegant vacations and honeymoons, especially for second marriages. Then, Windstar's three ships — two carrying 148 passengers and one with a capacity of 300 plus — faded a bit, and industry watchers wondered about their future. In a cruising world where small ships boast of fine bathrooms and fancy alternative restaurants, older vessels either improve or slip away from top markets.
Windstar, acquired in 2011 by Xanterra Parks & Resorts, a subsidiary of Anschutz Corp., has managed to refurbish its three ships by restoring and improving an upscale atmosphere, without overdoing it, eschewing a luxury style that might ruffle the sensibilities of sailing vessel passengers.
Wind Surf feels more comfy yacht club than exclusive country club.
New owners have spruced up the main restaurant, now called AmphorA, its only nod to pretense a capital A on either end of the name, though Birkholz said that with a classier atmosphere he now sees more collared shirts on men in the dining room.
Windstar has hired an executive chef, changed menus, added a French bistro to Wind Surf, and has moved to a softer touch in design and fabrics throughout the ship, with sand and marine colors. "And we put down a lot of wood," said Birkholz.
Windstar makes efficient use of its of refurbished cabin space, 188 square feet on Wind Surf, the only ship with a deck of suites that were formed in renovation by making two cabins into one, opening about half the wall between the two. The result is a one-bedroom suite with sitting room, two full bathrooms, two desks and plenty of storage.
"They hit a home run with the renovations. It's a sexy product," Vanessa Lee, president of a travel agency, Toronto's Cruise Strategies, told TravelMarketReport.com during an interview on Wind Surf.
When sails unfurl and the ship cranks up music from Ridley Scott's 1992 movie about Christopher Columbus, 1492: Conquest of Paradise, you get goose bumps, said Lee. "That is what Windstar is all about, the freedom (to use the ship like a private yacht) and the goose bumps."
Windstar crews are mostly Indonesian. Passengers tend to be worldly and weathered. You don't see much jewelry or elegant duds, so it's hard to tell among the mix of casual sailors who belongs to a fancy yacht club at home, who owns a simple sloop, and who merely prefers to vacation for a week or more on an upscale sailing ship that pulls into small, less trafficked ports — at a price generally ranging from $300-$400 a day per person.
Two Windstar ships — Wind Surf and Wind Spirit — are in the Caribbean this winter, and the third, Wind Star, is sailing between Panama and Costa Rica. All head for the Med in the spring. Itineraries recently were adjusted to provide special experiences at destinations, and Windstar is working on vacation packages on either end of the voyages.
By David G. Molyneaux, TheTravelMavens
Re-posted on CruiseCrazies.com - Cruise News, Articles, Forums, Packing List, Ship Tracker, and more