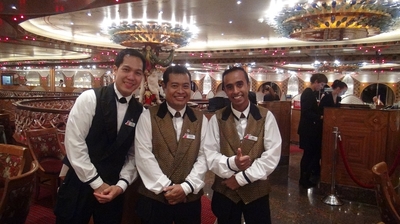 P&O Cruises will scrap the daily service charge onboard its entire fleet next year.
The move, which will come into effect from May 2019, means passengers' bills will not include a discretionary charge – currently £7 – for service received onboard.
If passengers want to pay a service charge they can visit reception during their cruise.
P&O Cruises senior vice president Paul Ludlow said: "We take huge pride in giving guests a holiday experience that's truly memorable and special.
"By removing the daily discretionary service charge, P&O Cruises will make enjoying a cruise holiday an effortless experience, knowing that great service comes as standard."
Crew pay will not be affected by the decision, the line has confirmed.
The news comes after the line raised its recommended daily gratuity from £6 to £7 earlier this year.
The increase came just 12 months after P&O Cruises had upped gratuities from £5 to £6.
Royal Caribbean International and Celebrity Cruises increased grauities rates in January and now charge between $14.50 and $18, depending on the cabin grade.
By Harry Kemble, Travel Weekly
Re-posted on CruiseCrazies.com - Cruise News, Articles, Forums, Packing List, Ship Tracker, and more
For more cruise news and articles go to https://www.cruisecrazies.com