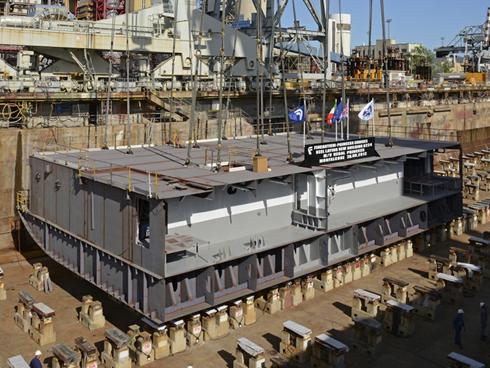 A shipyard in Italy this week officially began construction on the second of two new ships ordered by Princess Cruises.
Princess says the Fincantieri shipyard near Trieste, Italy on Tuesday held an official keel-laying ceremony for the 3,600-passenger vessel, which the line also announced would be called Regal Princess.
The 141,000-ton ship is a sister to the Royal Princess, which also is under construction at the shipyard. The Royal Princess is scheduled to debut in June 2013; the Regal Princess in spring 2014.
The keel-laying ceremony begun with a traditional blessing by a priest, followed by the movement of the ship's pre-built, 500-ton keel onto keel blocks in a dry dock by a huge crane.
Regal Princess and Royal Princess will be Princess' first new vessels since 2008. Larger than the line's previous ships, they'll feature a greatly expanded atrium area that will serve as a social hub; an industry-first, over-water "SeaWalk"; plush private poolside cabanas and other new-for-the-line amenities. Read about plans for the Royal Princess' two-deck sports zone.
By Gene Sloan, USA Today