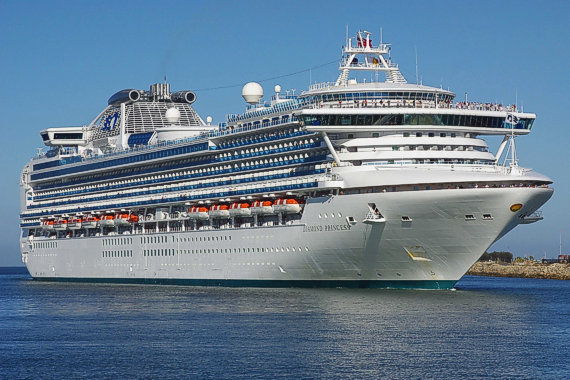 Princess Cruises has announced that its 116,000-tonne Diamond Princess will circumnavigate Australia in November 2014, with its inaugural voyage around the country, departing Sydney on November 18, 2014.
The 28 night voyage will include visits to all state and territory capital cities, as well as Airlie Beach and Port Douglas in Queensland, Bunbury and Albany in Western Australia and a quick overseas foray to Bali.
The voyage will be repeated in February 2015 and marks the largest Princess Cruises' ship to sail around Australia and a highlight of the cruise line's new 2014-15 Australasian program, already on sale in Australia.
Princess Cruises Commercial Director Alan Stuart said the cruise line offered the biggest choice of ships, homeports and itineraries in Australia, with four ships deployed in local waters over the 2014-15 season, adding "This latest program reflects Princess Cruises' position as the destination experts, featuring cruises from seven to 35 nights sailing to locations ranging from Tasmania to Tahiti and Thailand," Mr Stuart said. "No other cruise line offers Australians so much choice."
Diamond Princess will also sail on six cruises between Auckland and Sydney over the 2014-15 summer months, with the 2014-15 programme also offering cruises on sister ships Sun Princess, Dawn Princess and Sea Princess from Sydney, Melbourne and Brisbane, with Ocean Princess offering cruises between Australia and Asia and Tahiti.
Source: e-Travel Blackboard: JAJ
For more cruise news & articles go to http://www.cruisecrazies.com/index.html
Re-posted on CruiseCrazies.com - Cruise News, Articles, Forums, Packing List, Ship Tracker, and more