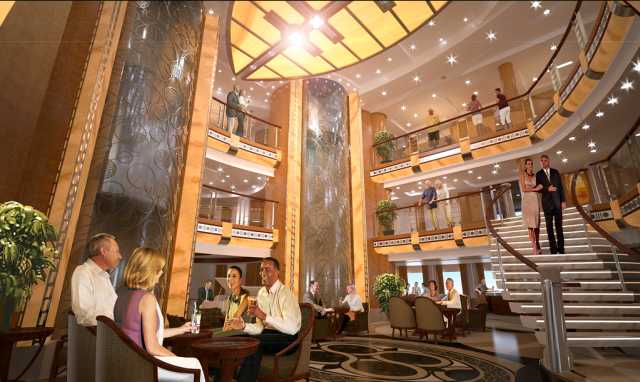 Makeover Will Include Piazza Atrium, Tea Lounge, Pizzeria and Nightclub
The most significant transformation ever of a Princess Cruises ship will occur this spring aboard Grand Princess. During a 24-day makeover the ship, which was the prototype for the line's "Grand Class" vessels, will undergo a remarkable renovation to receive many of Princess' trademark features introduced since the ship's 1998 debut including the signature Piazza atrium. Several new features will be also be added including a unique tea lounge and library called "Leaves"; and "Alfredo's," a full-service pizzeria showcasing this renowned Princess dish.
A brand new nightclub called One5, inspired by its deck location, will be created on the top deck of the ship, replacing its iconic Skywalker Nightclub, which has given the ship its distinctive profile. Skywalkers will be removed from its 18th deck perch, with its replacement located on deck 15. This change will significantly improve the operational performance of the ship, including greater fuel efficiency.
"This is the largest makeover we've ever undertaken for any of our ships," said Jan Swartz, Princess Cruises executive vice president. "When Grand Princess was launched she was the most innovative ship at sea, and now we're adding some of the later innovations we introduced on subsequent ships."
The changes will be made during a drydock from April 11 to May 4 at the Grand Bahama Shipyard in Freeport, Bahamas. Highlights of the dramatic makeover include:
New Piazza atrium – The atrium space of Grand Princess will be completely rebuilt to include this signature Princess feature -- a multi-faceted social hub of the ship combining always-changing quick bites and light meals, beverages, entertainment, shopping and guest services. The Piazza will feature the International Cafe for pastries, grilled panini sandwiches, salads, fresh-baked cookies and a variety of coffee drinks. Passenger will also enjoy a new Vines wine bar offering a selection of more than 30 wines by the glass, plus a selection of tapas and sushi, and a wine shop where passengers can purchase their favorite bottle.
Leaves Tea Lounge and Library – A fusion of tea lounge and library, the new Leaves offers a distinctive opportunity for passengers to custom-blend a variety of base teas with herbs, fruits and spices to create a personalized tea blend. Created in partnership with Mighty Leaf Tea Company, one of the world's premier maker of artisan teas, Leaves will give passengers an impressive choice of up to 500 different tea blends to suit their palates. A trained tea sommelier will assist passengers in blending a personalized tea creation, which they can enjoy in the midst of the library and a good book.
Alfredo's Pizzeria – Known for serving the best pizza at sea, Princess will introduce Alfredo's, a new sit-down pizzeria with an enticing menu of freshly prepared individual-size pizzas. Named for the line's master executive chef, Alfredo Marzi, the pizzeria will feature an open kitchen where passengers can watch chefs create the pizzas they'll enjoy with a glass of wine or other beverage.
One5 Lounge – The new One5 lounge will replace Skywalkers as the place to be for nighttime dancing and relaxing. The new lounge on deck 15 (hence its name) takes its inspiration from the chicest urban nightclubs, and will offer a cool vibe, contemporary seating and lighting, and a dramatic back-lit bar.
Crown Grill – A classic steakhouse with rich wood surroundings, this specialty restaurant features an open, theater-style kitchen where chefs custom-prepare premium aged beef and fresh seafood items, including live lobsters.
Also part of the renovation will be 10 new suites; remodeled casino, boutiques and art gallery; enhancements to the Horizon Court, Lotus Spa, and wedding chapel; and the addition of Crooner's Martini Lounge.
The newly renovated Grand Princess will debut on May 5 in Ft. Lauderdale where the ship will depart on a transatlantic crossing for her summer and fall homeport of Southampton, from which she will cruise a variety of European itineraries.
About Princess Cruises:
One of the best-known names in cruising, Princess Cruises is a global cruise and tour company operating a fleet of 17 modern ships renowned for their innovative design and wide array of choices in dining, entertainment and amenities, all provided in an environment of exceptional customer service. A recognized leader in worldwide cruising, Princess carries 1.3 million passengers each year to destinations around the globe ranging in length from seven to 107 days. The company is part of Carnival Corporation & plc (NYSE/LSE:CCL; NYSE:CUK).
Princess Cruises is a proud member of World's Leading Cruise Lines. Our exclusive alliance also includes Carnival Cruise Lines, Holland America, Cunard Line, Costa Cruises and Seabourn. Sharing a passion to please each guest and a commitment to quality and value, World's Leading Cruise Lines inspires people to discover their best vacation experience. Together, we offer a variety of exciting and enriching cruise vacations to the world's most desirable destinations.