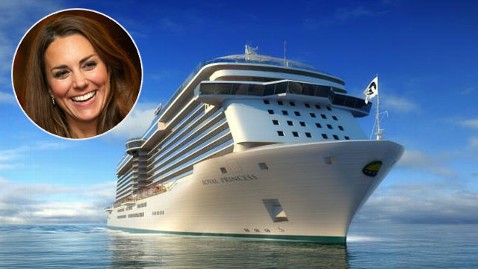 If anything can keep the cruise industry from sinking, it's Kate Middleton.
On Tuesday, Princess Cruises announced that the pregnant royal will be the godmother of Royal Princess, the newest addition to the line's fleet. Kate, 31, will also have the honor of naming the ship at its June 13 launch in Southampton, England.
"It is a great honor for Princess Cruises that Her Royal Highness The Duchess of Cambridge has accepted our invitation to become the Godmother to Royal Princess," Alen Buckelew, the line's president and CEO, said in a statement.
"We are delighted that the Duchess will launch our new ship and can think of no better way to celebrate our company's British heritage and our commitment to the country."
The 3,600-passenger ship will sail the Grand Mediterranean cruises throughout the summer, followed by Eastern Caribbean cruises beginning in the autumn. Previous cruise godmothers have included Princess Diana, Martha Stewart, Audrey Hepburn Sophia Loren, Margaret Thatcher and the cast of The Love Boat.
By Rebecca Macatee, E! Online
For more cruise news & articles go to http://www.cruisecrazies.com/index.html
Re-posted on CruiseCrazies.com - Cruise News, Articles, Forums, Packing List, Ship Tracker, and more