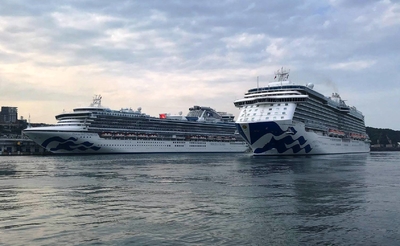 Whilst it is only 86 days to go until Majestic Princess calls Australia home, today she sailed into Keelung Taipei where she was joined by another Princess ship, Diamond Princess. Both ships were expertly captured by Princess Cruises' local port agent in Taiwan, Vicky Tsai.
Majestic Princess is currently sailing on roundtrip  itineraries from Taiwan and Diamond Princess is currently sailing on roundtrip itineraries from Japan. Majestic Princess carries 3,500 guests and weighs in at 143,00 GRT the ship will become the largest Princess ship to homeport in Sydney, Australia. Majestic Princess is due to arrive in Sydney on Saturday the 15th of September 2018 for the 2018/19 Australian cruising season.
"The anticipation and excitement for Majestic's maiden season speaks to the momentous growth of our market. Incredibly, we have already announced her second season return before she's arrived, to spearhead our largest Australian deployment in 2019, alongside Ruby Princess."
During her inaugural Australian season, Majestic Princess will sail on 16 cruises to destinations including Fiji, New Zealand and Tasmania as well as two Asia voyages between Shanghai and Sydney, and Sydney and Hong Kong. 
The ultimate in premium cruising, Majestic Princess features 13 dining options including two restaurants with menus designed by Michelin star chefs – Harmony by Chef Richard Chen and La Mer by Chef Emmanuel Renaut – as well as more than 1000 square meters of designer shopping, the cruise line's largest ever thermal suite and a dramatic over-the-ocean glass walkway, the SeaWalk.

Guests can choose from a wide range of high-end accommodation including suites, Club Class mini-suites, and new deluxe balcony rooms, with more than 80 per cent of the ship's 1780 staterooms offering private balconies.
Information supplied by: Princess Cruises And www.australiancruisingnews.com.au The HOME Of Australian Cruising!
Photo supplied by: Princess Cruises.